Urdu Quotes About Relationship And Life
Urdu quotes about relationships and life are often filled with profound wisdom, reflecting the intricate and delicate nature of human connections. (Urdu Quotes)These quotes eloquently capture the essence of love, friendship, and the dynamics of our interactions with others. They remind us of the significance of trust, understanding, and communication in nurturing healthy relationships.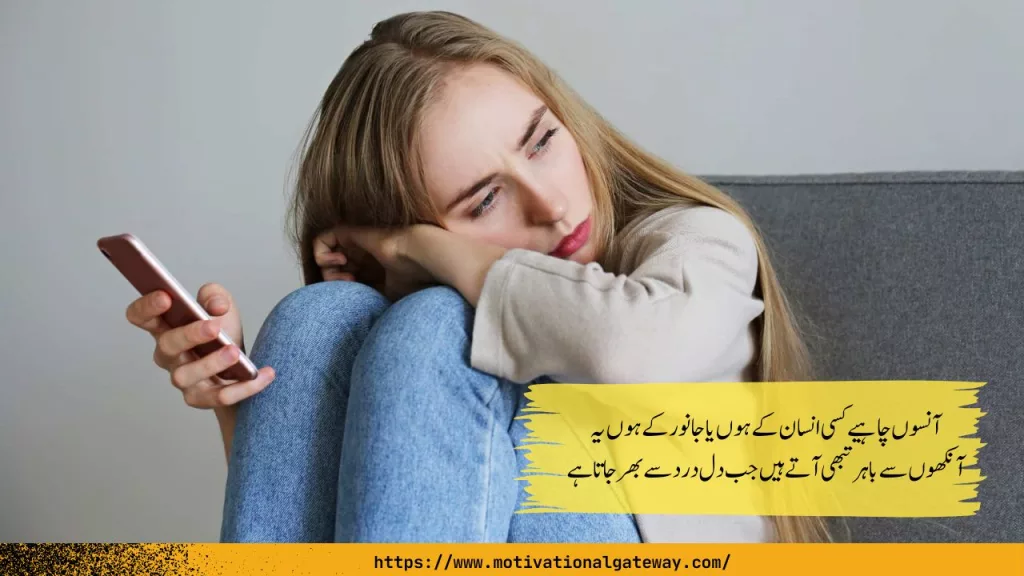 Ansaoo Chahihy Kisi Insan K Hoo Ya Janwer K Hoo Ye Ankhoo say Bahir Tabhi Aty Hain Jb Dil Drd Say Bhr Jata Hy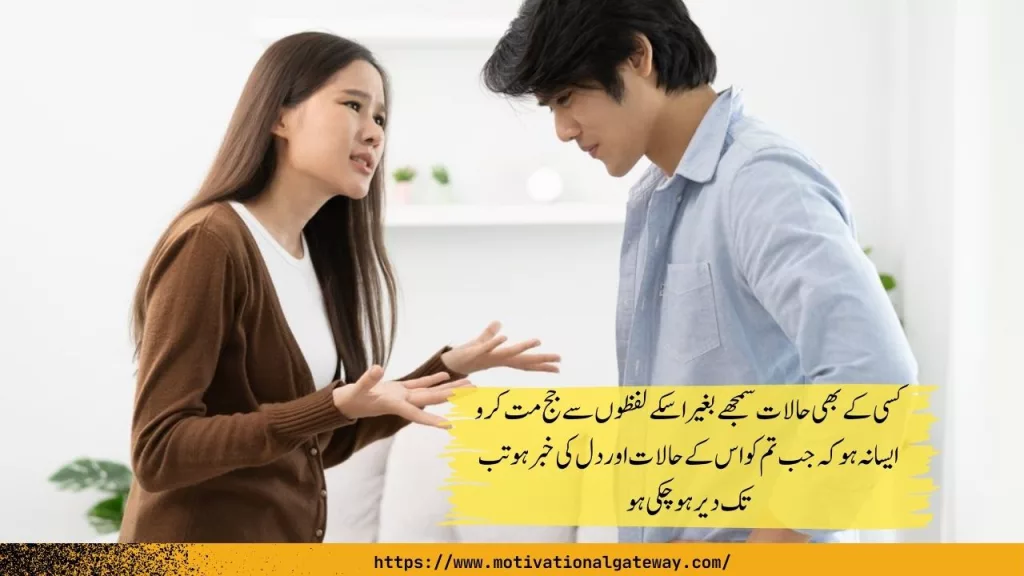 Kisi K Bhi Halat Samjhy Baghair Us Ky Lafzoo Say Jaj Mat Kro Asa Na Ho K Jb Tum Ko Us K Halalt Aor Dil Ki Khaber Ho Tb Tk Dare Ho Chuki Ho ( Sad Quotes About Life And Relationship)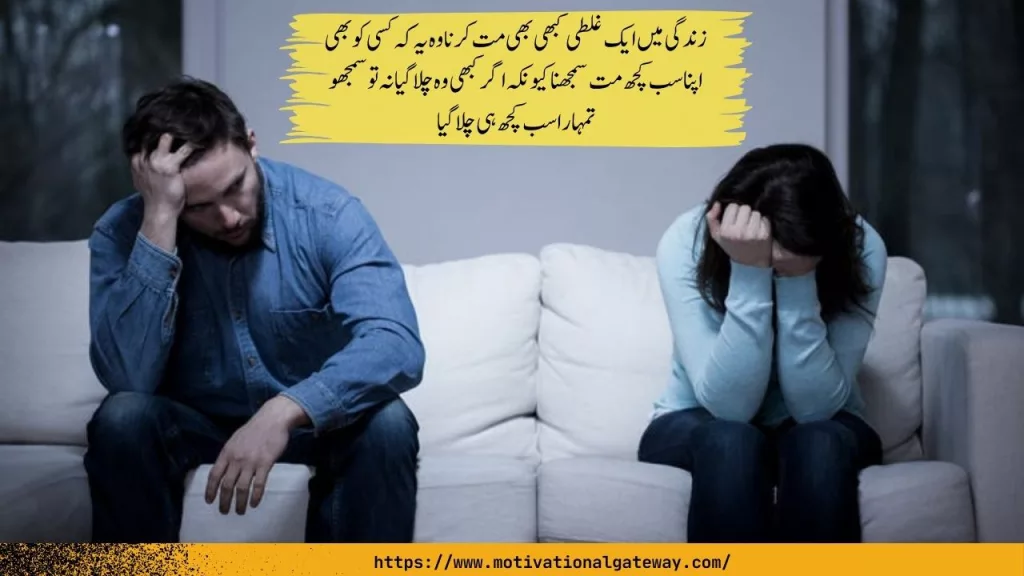 Zindagi Main Aik Glti Kbhi Bhi Maat Krna Wo Ye K Kisi Ko Bhi Apna Sb Kuch Maat Samnjhna QK Afer Kbhi Wo Chla Gya Na To Samjho Thumara Sb Kuch Hi Chla Gya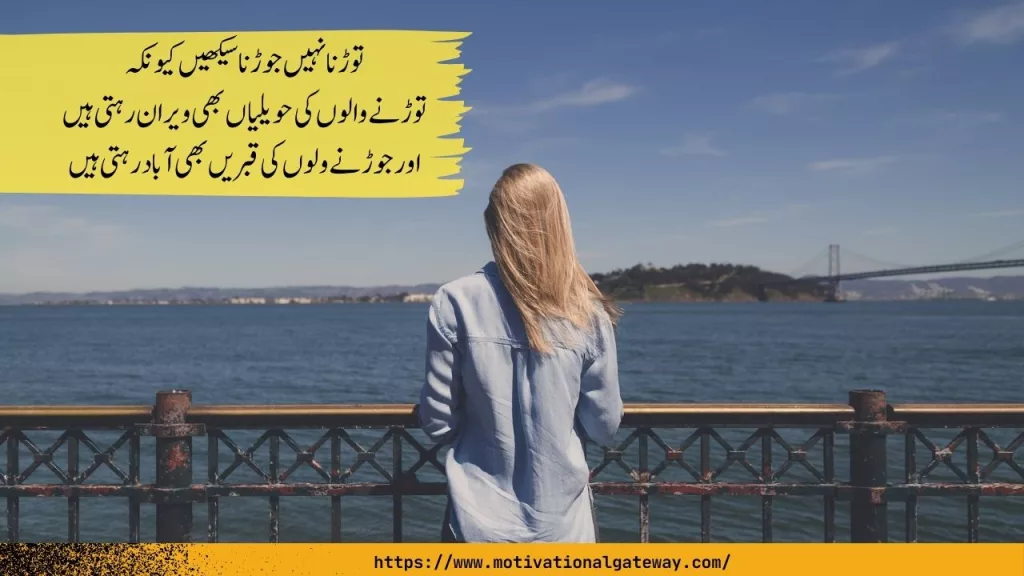 Torna Nh Jorna Sekhain Qk Torny Walo Ki Hawlyaa Bhi Wiran Rehti Hain Aor Jorny Wali Ki Kabrain Bhi Abad Rehti Hian
Kisi Ko Apna Dukh Sunao Aor Mazak Bn Jye Iss Say Behtr Hy Kehin K Chup Raho Aor Rakh Bn Jao
Urdu Quotes ( Love And Relationship )
Urdu quotes about relationships and love encapsulate the essence of deep human emotions and connections in a poetic and soul-stirring manner. They delve into the intricacies of romantic love, emphasizing the power of affection, trust, and understanding in nurturing a strong bond between partners. These quotes often celebrate the timeless beauty of love and its ability to transcend boundaries, reminding us that true love knows no barriers.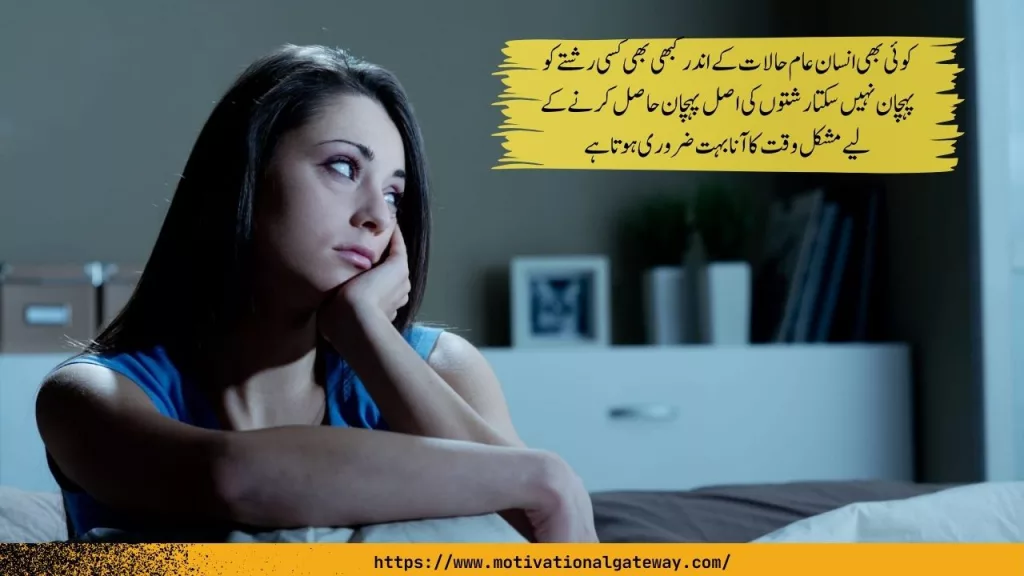 Koi Bhi Insan Aam Halat K ander Kbhi Bhi Kisi Rishty Ko Pechan Nh Skta Rishtoo Ki Asal Pechan Hasil Krny Ki Ly Mushikl Wkt Ka Ana Bouth Zarori Hota Hy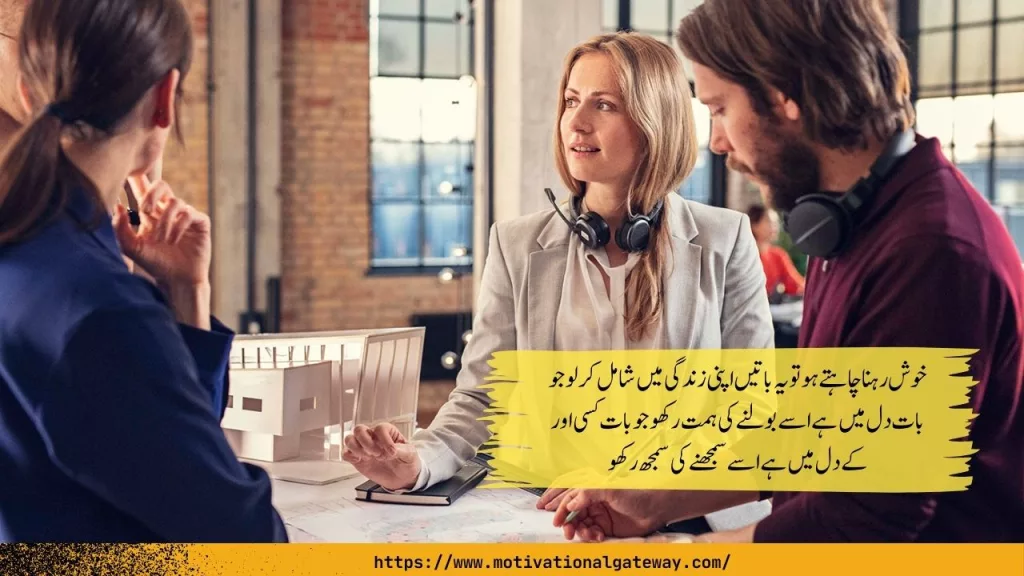 Kush Rehna Chahty Ho RO Ye Batain Apni Zindagi Main Sahamil Kr Lo Jo Baat Dil Main Usy Bolny Ki Himt Rikho Jo Baat Kisi Aor K Dil Main Hy Usy Samjhny Ki Smjh Rikho ( Relationship Quotes)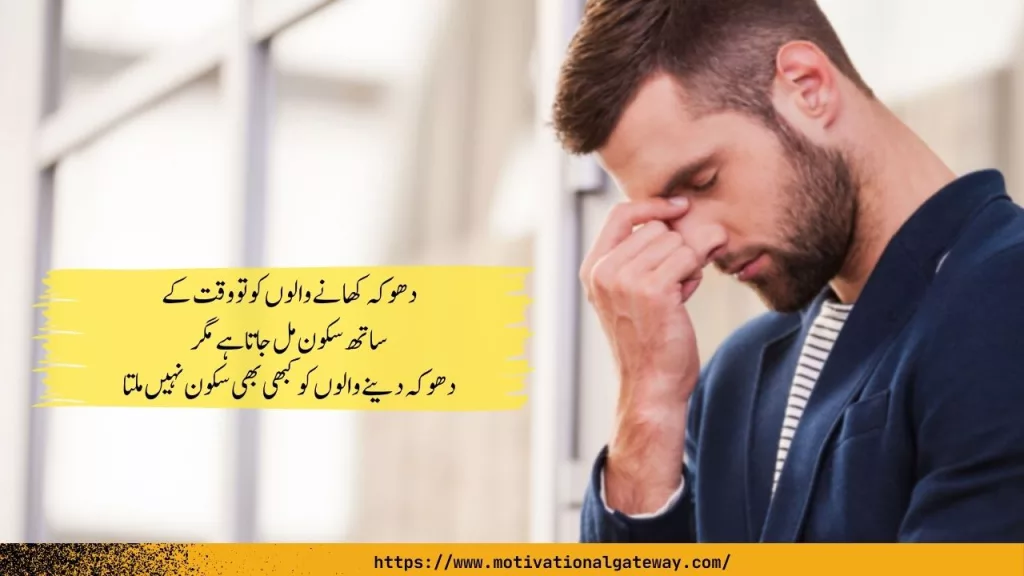 Dhoka Khany Ealo Ko To Wkt K Sath Skoon Mil Jata Hy Mager Dhoka Deny Walo Ko Kbhi Bhi Skoon Nh Milta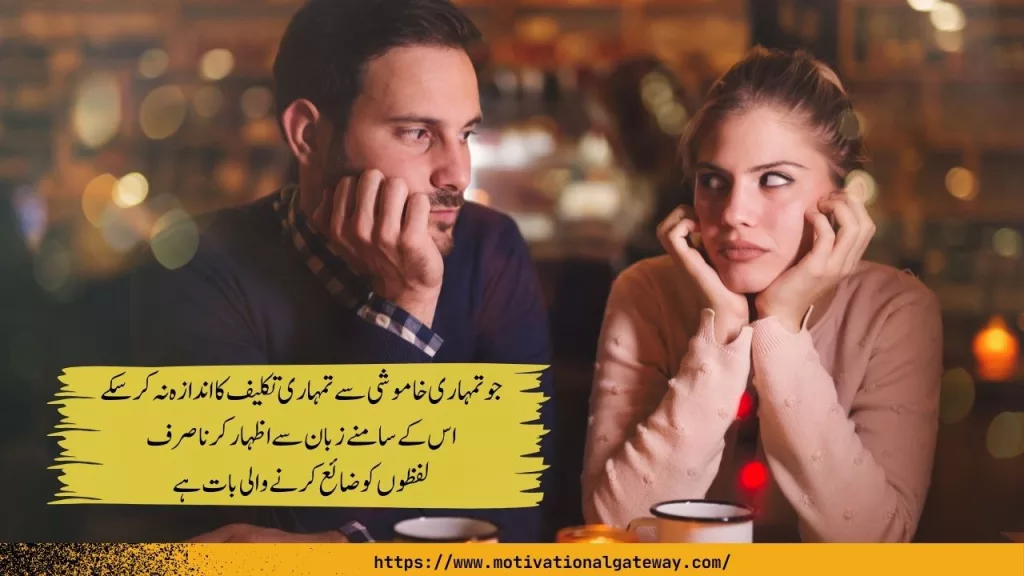 Jo Thumari Khamoshi Say Thumari Taklef Ka Andaza Na Kr Skiy Us K Samny Zuban Say Izhar Krna Serf Lafzoo Ko Zayee krny Wali Baat Hy (Urdu Quotes)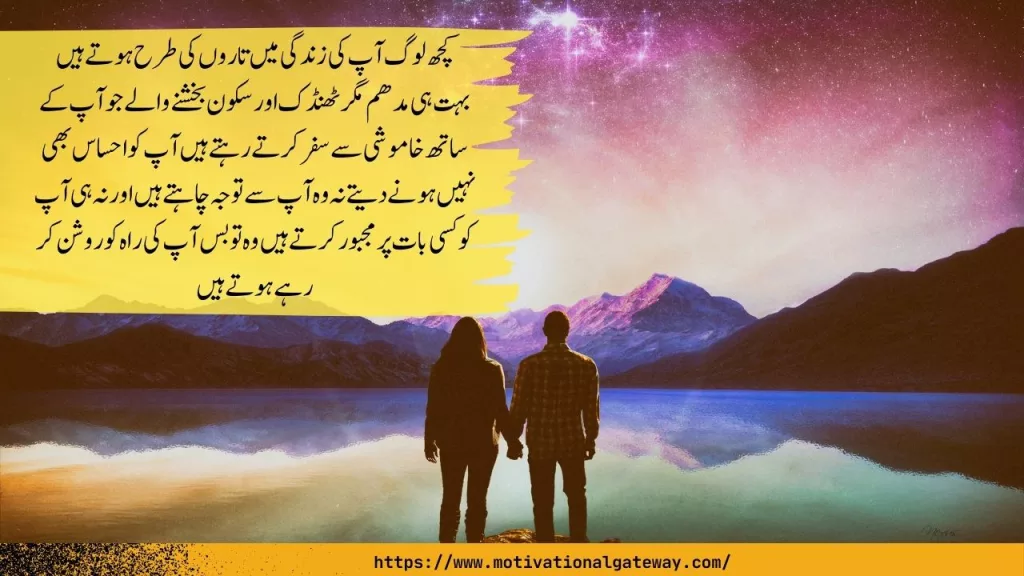 Kuch Log Ap Ki ZIndagi Main Taroo Ki thra Hoty Hian Bouth Hi Madhm Magr Thandk Aor Skoon Bakshny Ealy Jo Ap K Sath Kahmoshi Say Safer Krty Rehty Hain Ap Ko Ehas Bhi Nh Hony Dety Na Wo AP Say Tawjaa Chahty Hian Aor Na Hi Ap Ko Kisi Baat Pr Majboor Krty Hain Wo To Bs Ap Ki Rha Ko Roshn Kr Rhy Hoty Hain