Rasty Band Nahi hoty
Rasty Band Nahi hoty
اس نے مجھے دھوکہ نہیں دیا بلکہ مجھے جینے کی ایک وجہ دی ہے کہ زندگی اتنی بے ضرر نہیں ہوتی جسے جب چاہے کوئی ختم کر دے یہ میرے رب کا فیصلہ ہے کہ میں ایک بے ضرور انسان کے دھتکارنے پر اس پاک ذات پر بھروسہ مضبوط کرکے زندگی کو نئے سفر پر لے چلوں اپنی سوچ بدلیں کسی کے چھوڑ جانے سے راستے بند نہیں ہو جاتے بلکہ نئی منزلیں قریب آ جاتی ہیں .
is ne mujhe dhoka nahi diya balkay mujhe jeeney ki aik wajah di hai ke zindagi itni be zarrar nahi hoti jisay jab chahay koi khatam kar day yeh mere rab ka faisla hai ke mein aik be zaroor ensaan ke dhtkarne par is pak zaat par bharosa mazboot karkay zindagi ko naye safar par le chaloon apni soch badlein kisi ke chore janey se rastay band nahi ho jatay balkay nai manzilain qareeb aa jati hain .
اندر سے ٹوٹا ہو شخص کبھی نارمل نظر نہیں آئے گا مطلب کہ اس کے ہر Emotionمیں شدت پائی جائے گی ہنسنے لگے گا تو بہت زیادہ ہنسے گا چپ رہے گا توہ گہری خاموشی اختیار کرے گا اگر خود کو لوگوں سے انگیج کرے گا تو بہت زیادہ کرے گا اور اگر تنہا رہے گا تو سائے کو بھی برداشت نہیں کرے گا۔
andar se toota ho shakhs kabhi normal nazar nahi aeye ga matlab ke is ke har emotionمیں shiddat payi jaye gi hansnay lagey ga to bohat ziyada hanse ga chup rahay ga toh gehri khamoshi ikhtiyar kere ga agar khud ko logon se engage kere ga to bohat ziyada kere ga aur agar tanha rahay ga to saaye ko bhi bardasht nahi kere ga .
ہماری ساری عمر دوسروں کے بارے میں سوچنے میں گزر جاتی ہے کوئی ناراض ہے تو کیوں ہے ؟
اسے مناؤں تو کیسے مناؤں کسی بھی حد تک جا کر اُسے منا لیتے ہیں پھر بے شک ہمیں اس کیلئے اپنی خوشی کا گلہ گھونٹ دیں اپنے تمناؤں کی بلی چڑھا دیں ہر حد سے گزر جاتے ہیں کچھ رشتوں کے بچانے کی خاطر ہم اُن رشتوں کو بچا تو لیتے ہیں مگر خود کو سولی پر چڑھا دیتے ہیں
hamari saari Umar doosron ke baaray mein sochnay mein guzar jati hai koi naraaz hai to kyun hai ?
usay manao to kaisay manao kisi bhi had tak ja kar ussay mana letay hain phir be shak hamein is ke liye apni khushy ka gilah ghoont den –apne tamannaon ki billi charha den har had se guzar jatay hain kuch rishton ke bachanay ki khatir hum unn rishton ko bacha to letay hain magar khud ko sooli par charha dete hain۔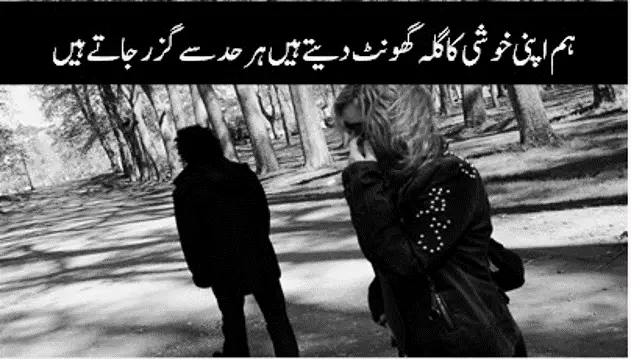 جن سے ہمیں محبت ہوتی ہے نہ ان کے جھگڑے میں ان کے غصے میں اور ان کی ناراضگی میں بھی اپنا پن اور محبت کا احساس ہوتا ہے ان کے کڑوے لفظوں میں بھی مٹھاس سی ہوتی ہے اس لیئے جب میں ناراض ہوتی ہیں تو اُن کا منانا مجھے اچھا لگتا ہے اور جب وہ مجھ سے وہ ایک لمحہ بھی بات نہ کرے تو پھر اُداسی اور ادھورا پن سا محسوس ہوتا ہے جیسے وہ نہیں تو کچھ بھی نہیں وہ ہے تو میں ہوں
jin se hamein mohabbat hoti hai nah un ke jhagrre mein un ke ghusse mein aur un ki narazgi mein bhi apna pan aur mohabbat ka ehsas hota hai un ke karvae lafzon mein bhi mithaas si hoti hai is liye jab mein naraaz hoti hain to unn ka manana mujhe achha lagta hai aur jab woh mujh se woh aik lamha bhi baat nah kere to phir udaasii aur adhoora pan sa mehsoos hota hai jaisay woh nahi to kuch bhi nahi woh hai to mein hon
rasty band nahi hoty