Mind Changing Quotes – Daily Quotes
This post reminds us that our thoughts are not fixed and we have the power to change them (Mind Changing Quotes). Life can be challenging at times, but it's important to remember that no obstacle is too big to overcome. When we face difficulty, it's easy to get discouraged and lose motivation.
This post reminds us that life is constantly changing, and it's up to us to adapt and evolve. The biggest adventure you can take is to live the life of your dreams, beautifully captures the idea that the journey towards our dreams is just as important as the destination. It turns what we have into enough, and more.
Mind Changing Quotes for everyone
It turns denial into acceptance, chaos into order, and confusion into clarity, eloquently captures the power of gratitude to transform our lives. This post encourages us to be calm and observe our surroundings with utmost attention. It teaches us that silence is a powerful tool that can help us understand and connect with ourselves on a much deeper level.
We hope that these quotes have inspired you to adopt a peace of mind set and improve your mental wellbeing. Remember, life can be challenging, but with a peaceful mind and a positive attitude, we can overcome any obstacle that comes our way.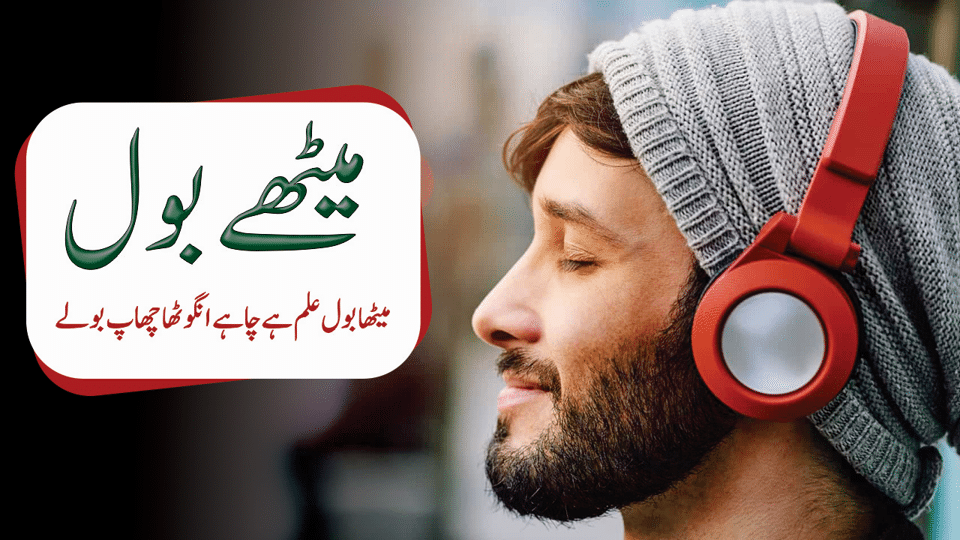 Metha Bol Ilm Hy Chaihy Anghotaa Chaap Boly ( Methay Bol )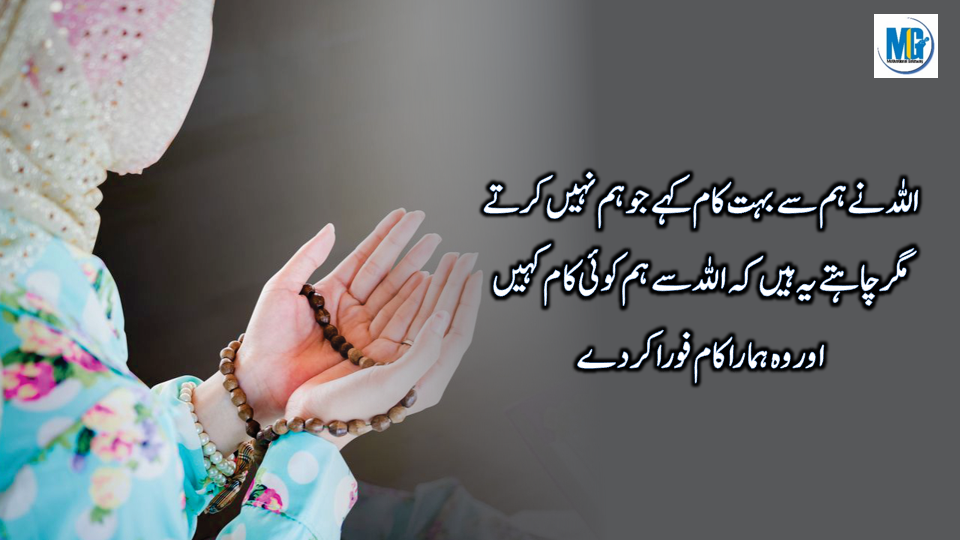 Allah Ny Ham Say Bouth Kaam Kahy Jo Ham Nh Krty Mager Chahty Ye Hain K Allah Say Ham Koi Kam Kahain Aor Wo Hamra Kam Foran Kr Day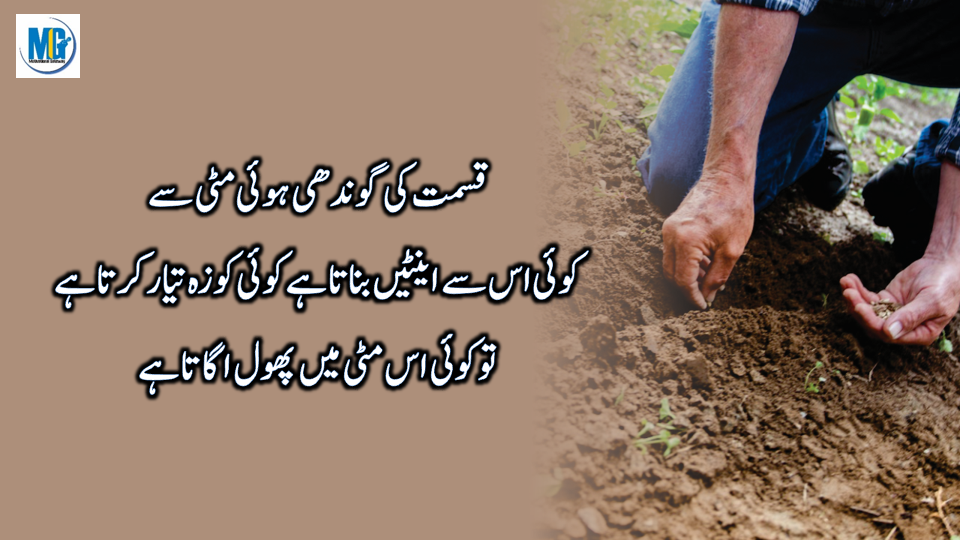 Kismat Ki Ghondhi Hoi Mattii Say Koi Iss Say Entain Bntaa Hy Koi Kozaa Tyar Krta Hy To Koi Iss Matii Main Phaool Ugata Hy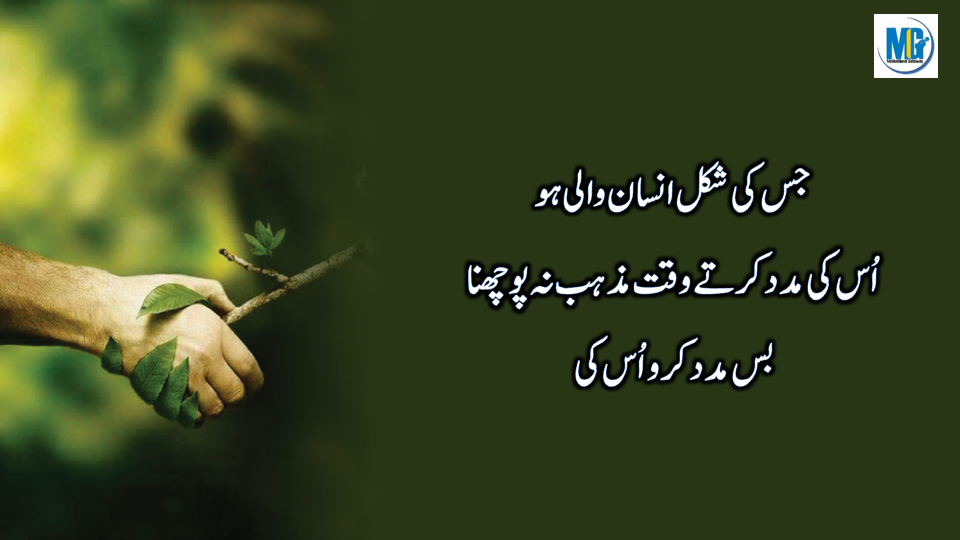 Jiss Ki Shakl Insan Wali Ho Us Ki Madad Krty Wkt Mazhab Na Pochna Bs Madad Kro Us Ki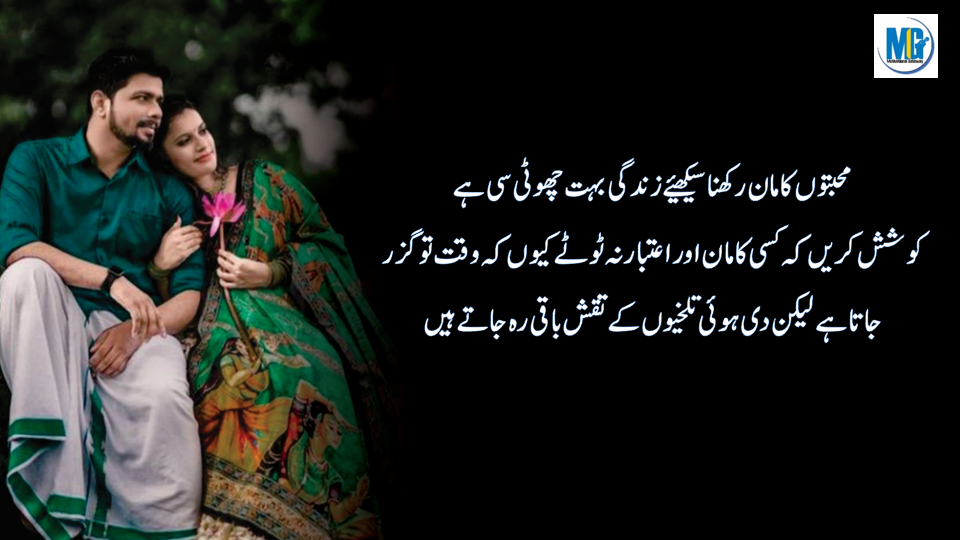 Muhabtoo Ka Maan Rikhna Sekhiay Zindagi Bout Choti Cee Hy Koshish Krain K Kisi Ka Maan Aor Aitbar Na Totay Qk Wkt To Guzer Jata Hy Lkn Di Hoi Talkhyioo K Naksh Baki Reh Jaty Hain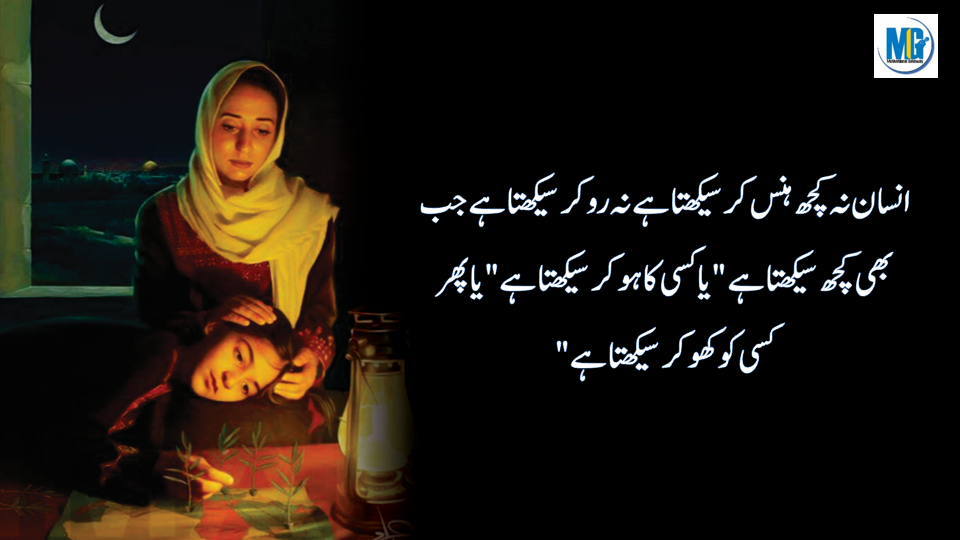 Insan Na Kuch Hans Kr Sekhtaa Hy Na Ro Kr Sekhta Hy Jb Bhi Kuch Sekhta Hy Ya Kisi Ka Ho Kr Sekhta Hy Ya Phr Kisi Ko Kho Kr Sekhta Hy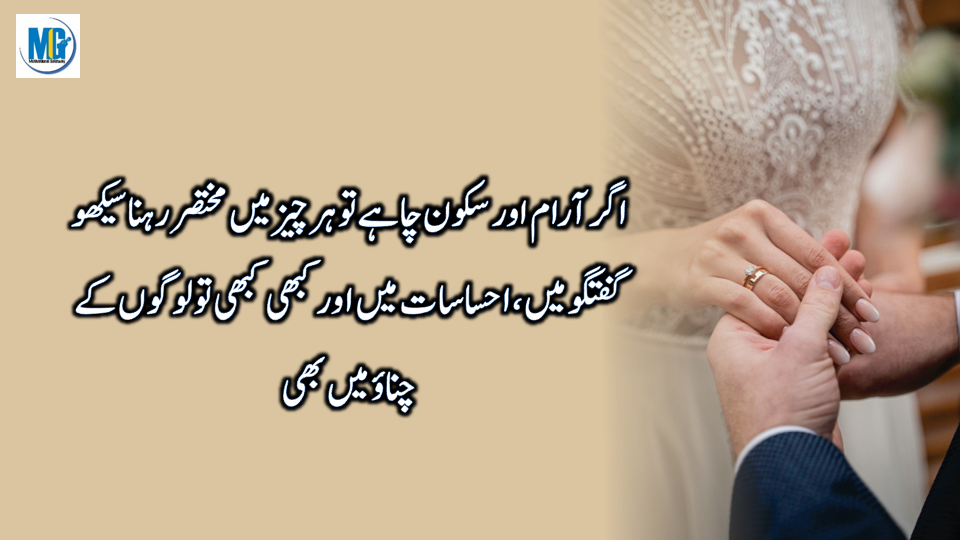 Ager Ara, Aor Sakoon Chaihy To Her Chezz Main Mukhtisr Rehna Sekho Guftgoo Main Ehsasat Main Aor Kbhi Kbhi To Logoo K Chunaoo Main Bhi ( Life Quotes )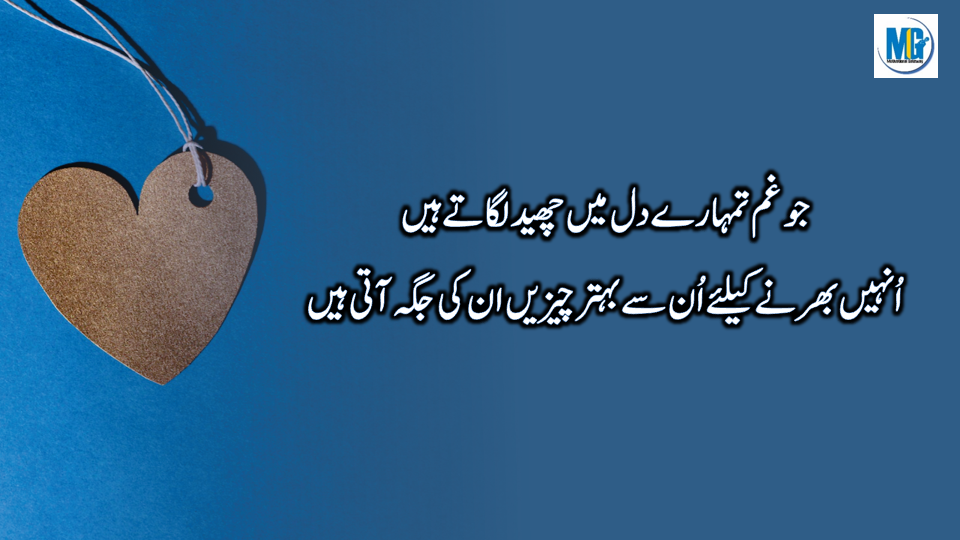 Jo Gham Thumary DIl Main Cheed Lgaty Hain Unhain Bhrny K Liy Un Say Behtr Chezain Un Ki Jaga Atii Hain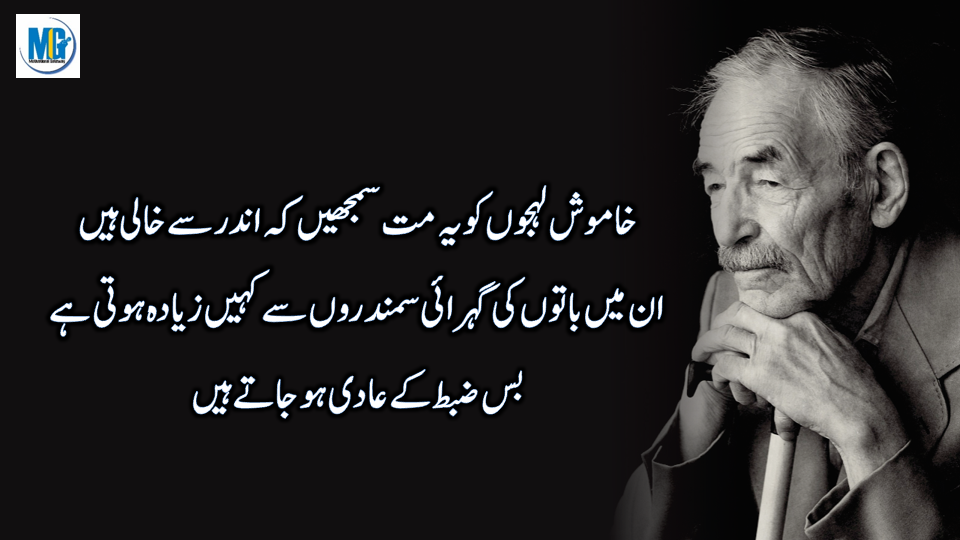 Khamosh Lehjoo Ko Ye Maat Samjhain K Ander Say Khali Hain Un Main Batoo Ki Gehrii Sumendroo Say Kehein Zyada Hoti Hy Bs Zabt K Adiii Ho Jaty Hain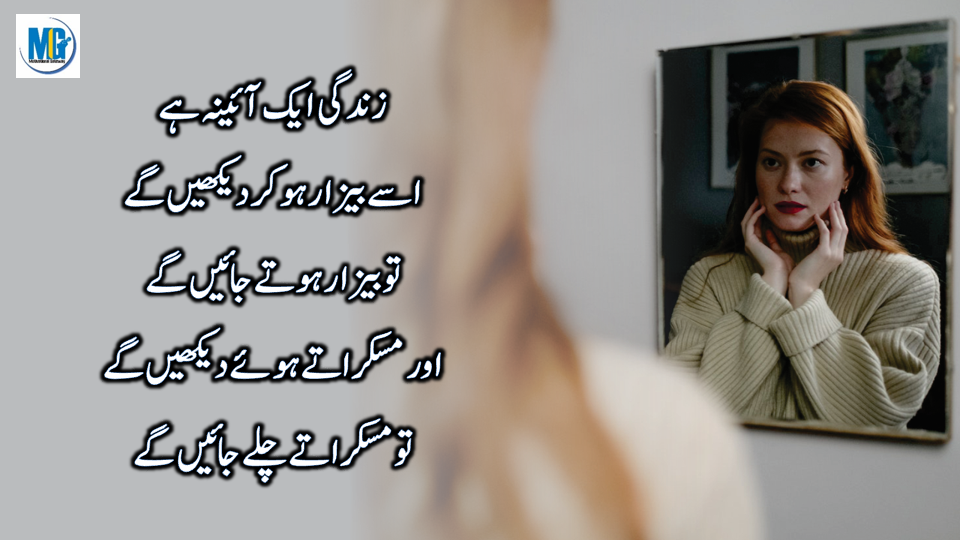 Zindagi aik Ayena Hy Isay Bezar Ho Kr Dekhain Gay To Bezar Hoty Jyn Gay Aor Muskraty Howy Dekhain Gay To Muskraty Chily Jyn Gay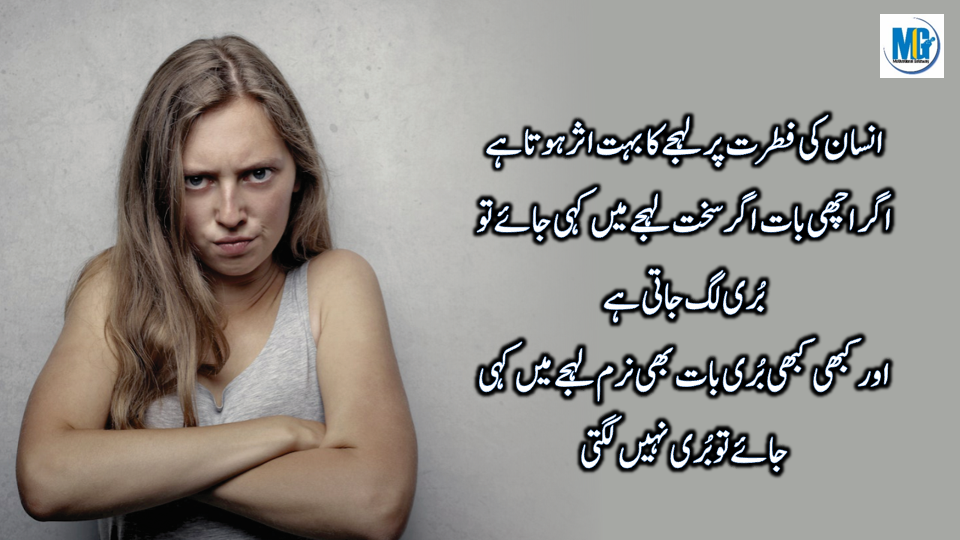 Insan Ki Fitrat Pr Lehjy Ka Bouth Aser Hota Hy Ager Achi Baat Ager Sakht Lehjy Main Kehi Jay To Buri Lg Jati Hy Aor Kbhi Kbhi Buri Baat Bhi Narm Lehjy Main Kahi Jay To Buri Nh Lgti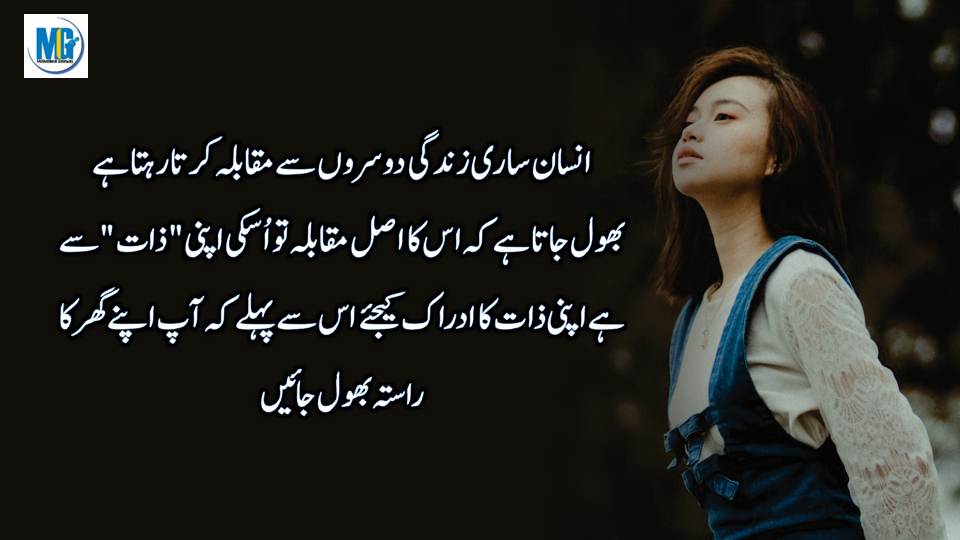 Insan Sarii Zindagi Dosroo Say Mukabla Krta Rehta Hy Bhool Jata Hy K Iss Ka Asl Mukbla To Uski Apni Zaat Say Hy Apni Zaat Ka Idrak Kejiay Iss Say Pehly K Ap Apny Ghr Ka Rasta Bhool Jyn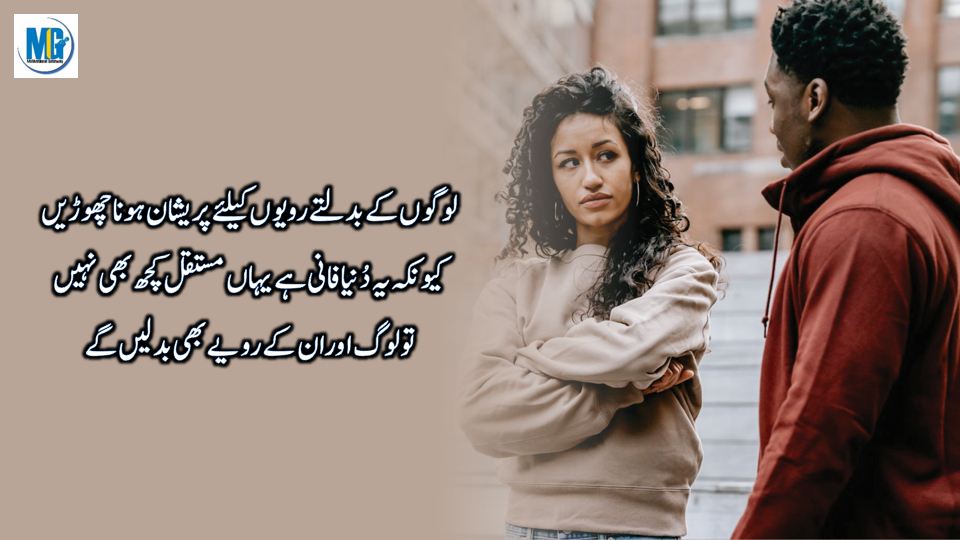 Logo K Bdlty Rawioo K Liy Preshan Hona Chorain Qk Ye Dunia Fani Hy Yahan Mustkl Kuch Bhi Nh To Log Aor Un K Rawiay Bhi Bdlain Gay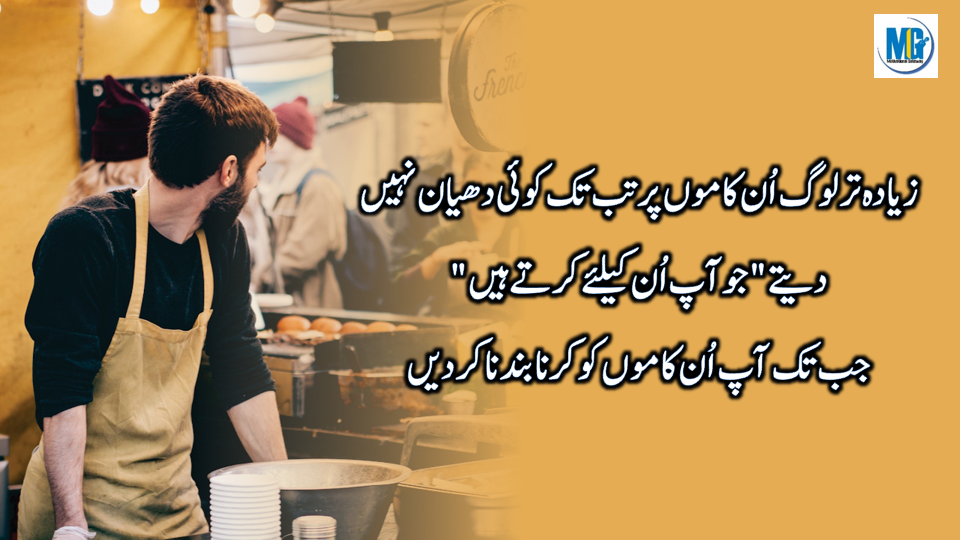 Zyada Tr Log Un Kamoo Pr Tb Tkk Koi Dhyan Nh Dety Jo Ap Un K Liy Krrty Hain Jb Tk Ap Un Kamoo Ko Krna Band Na Kr Dain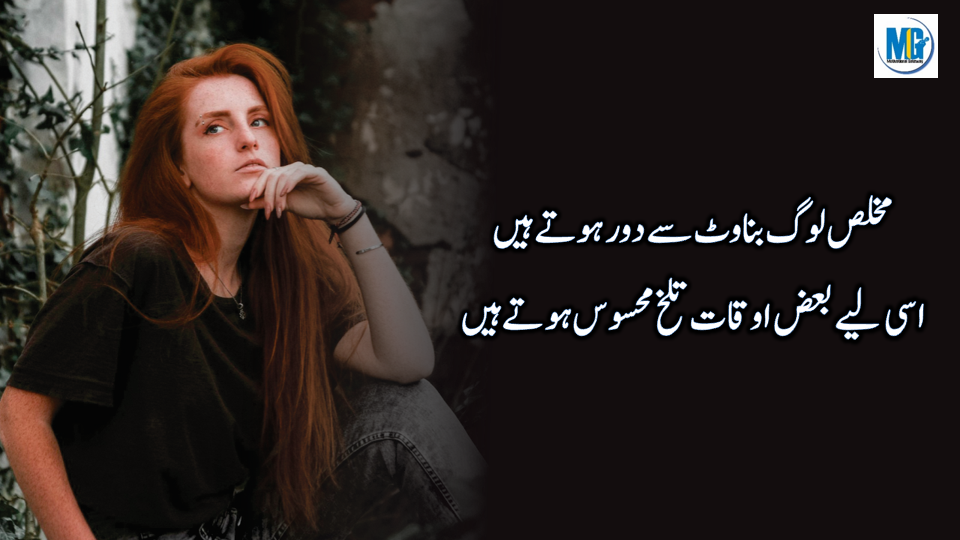 Mukhlis Log Bnawt Say Door Hoty Hain Issi Liy Baaz Okat Talkh Mehsoos Hotay Hain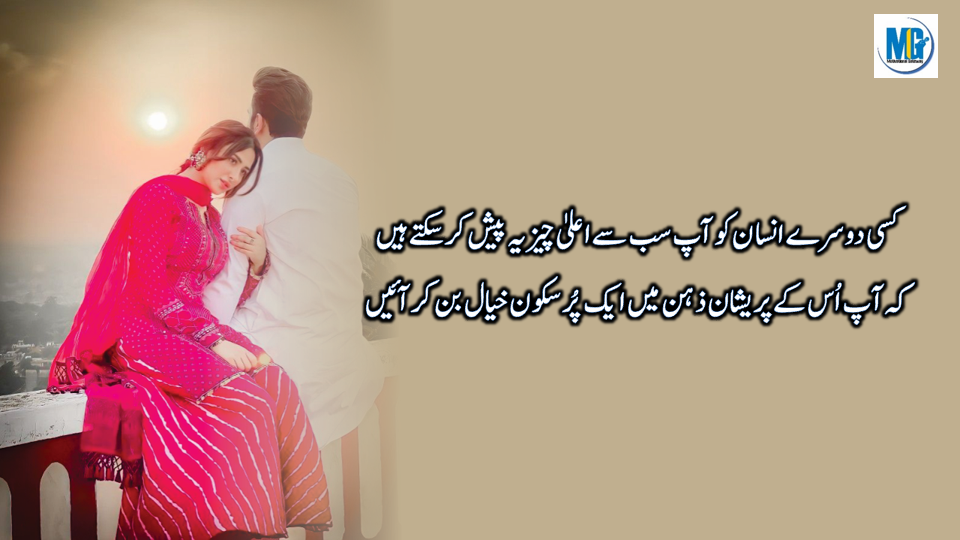 Kisi Dosry Insaan Ko Ap Sab Say Alaa Chezz Ye Pashee Kr Skty Hain K Ap Us K Preshan Zehn Main Aik Purskoon Khyal Bn Kr Ayn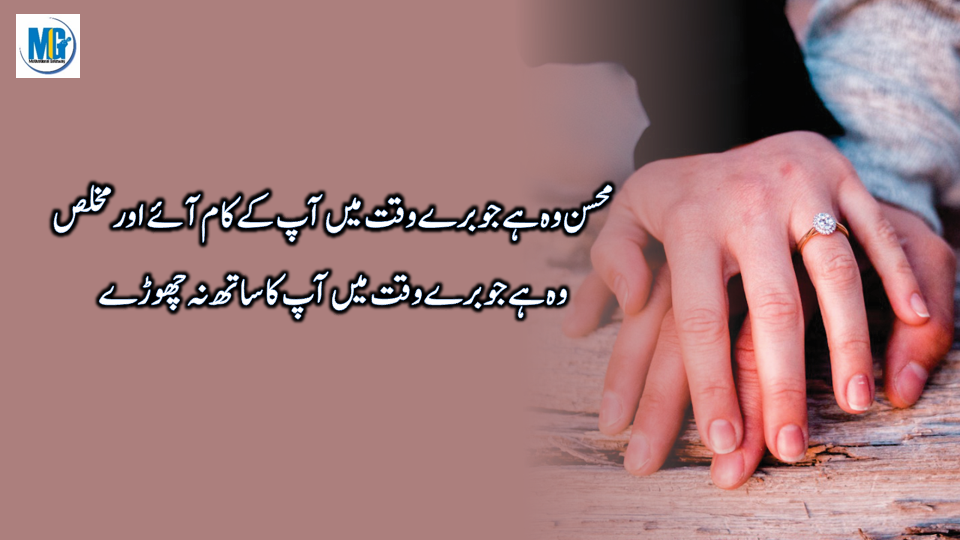 Muhsin Wo Hy Jo Bury Wkt Main Ap K Kaam Ay Aor Mukhlis Wo Hy Jo Bury Wkt Main Ap Ka Sath Na Chory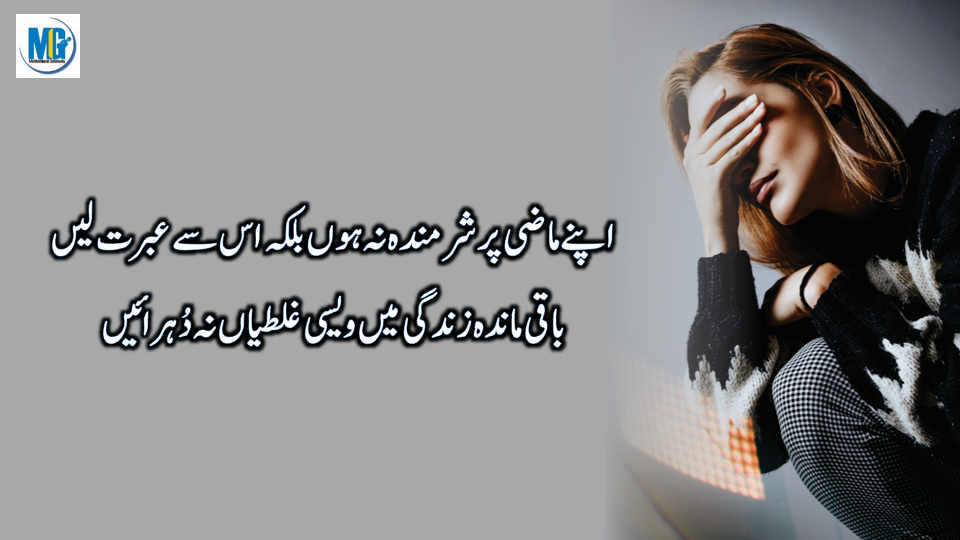 Apny Mazii Pr Shirmndaa Hoo Bilk Iss Say Ibrat Lain Baki Manda Zindagi Main Wesi Ghaltyaa Na Dhurynn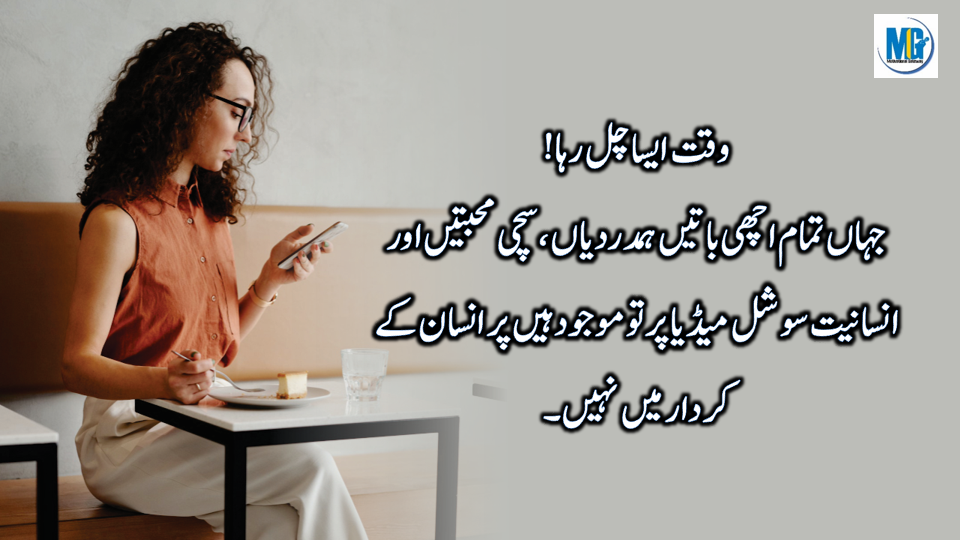 Wkt Asa Chl Rha Jahn Tamam Achii Batein Hamdardyaa Sachi Muhbtein Aor Insanyat Social Media Pr To Mojood Hain Pr Insan K Kirdar Main Nh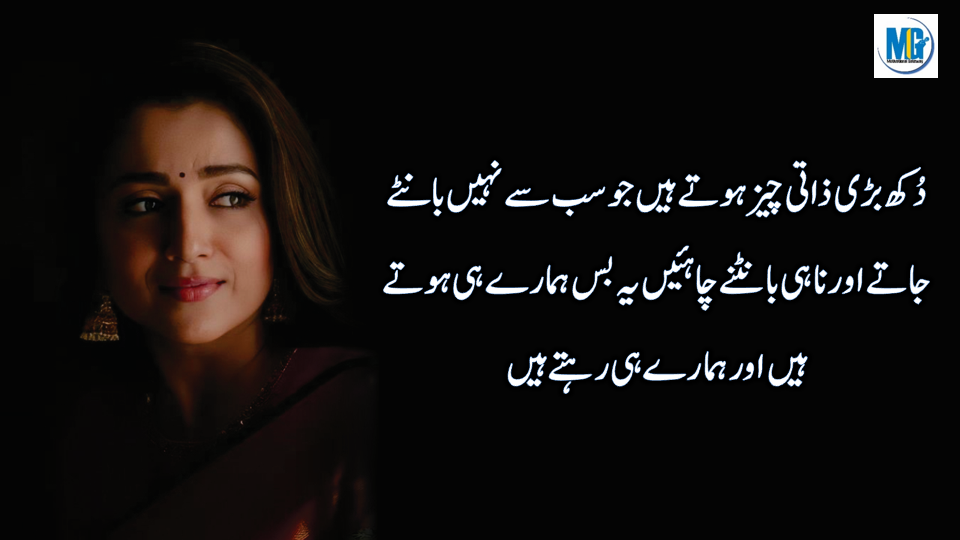 Dukh Brii Cheez Hoty Hain Jo Sb Say Nh Banty Jaty Aor Na Hi Bantny Chaihain Ye Bs Hamry Hi Hoty Hain Aor Hamry Hi Rehty Hain ( Urdu Quotes About Life )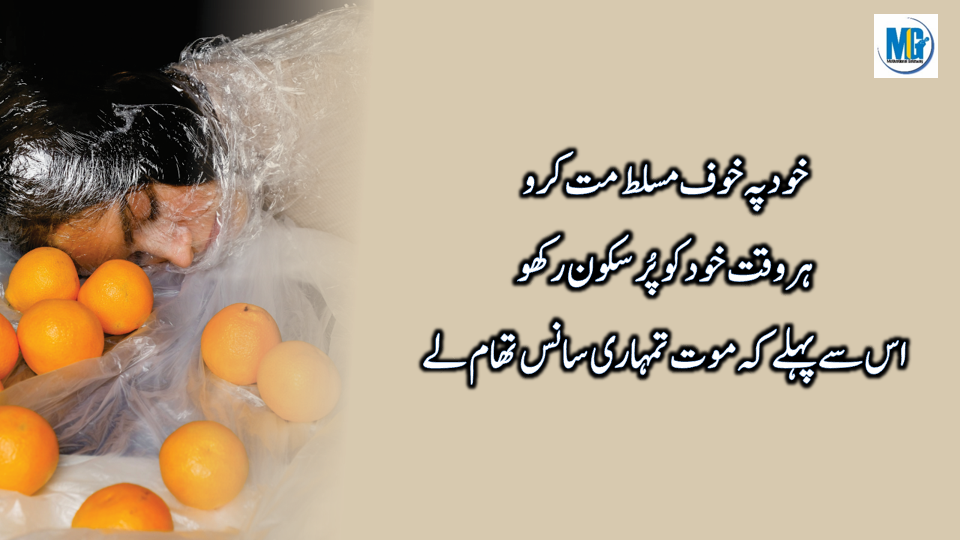 Khud Pay Khof Muslt Maat Kro Her Wkt Khud Ko Purskoon Rikho Iss Say Pehly K Moot Thumarii Sans Tham Ly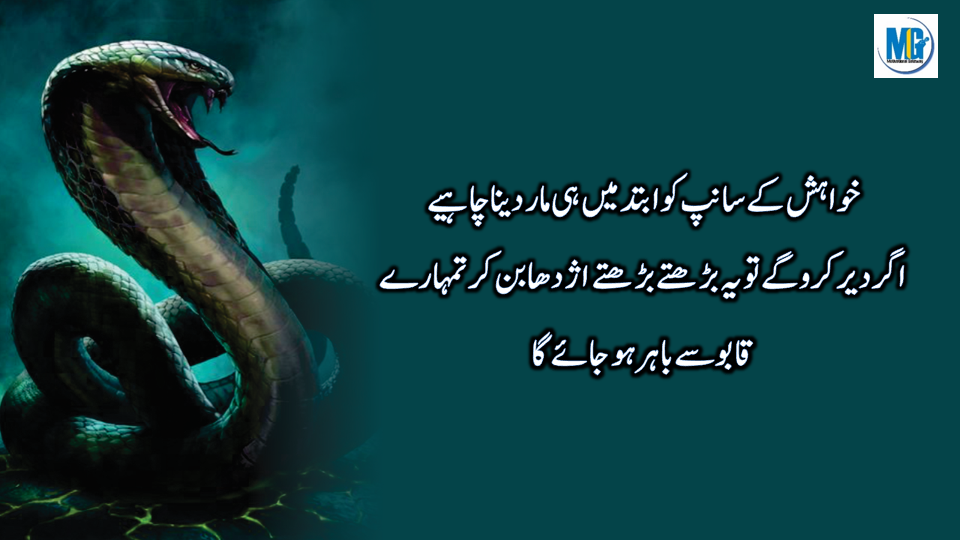 Khewish K Sanp Ko Ibtda Main Hi Maar Dena Chaihy Ager Dare Kro Gay To Ye Bhrty Bhrty Asdhaa Bn Kr Thumry Kaboo Say Bahir Ho Jayy Ga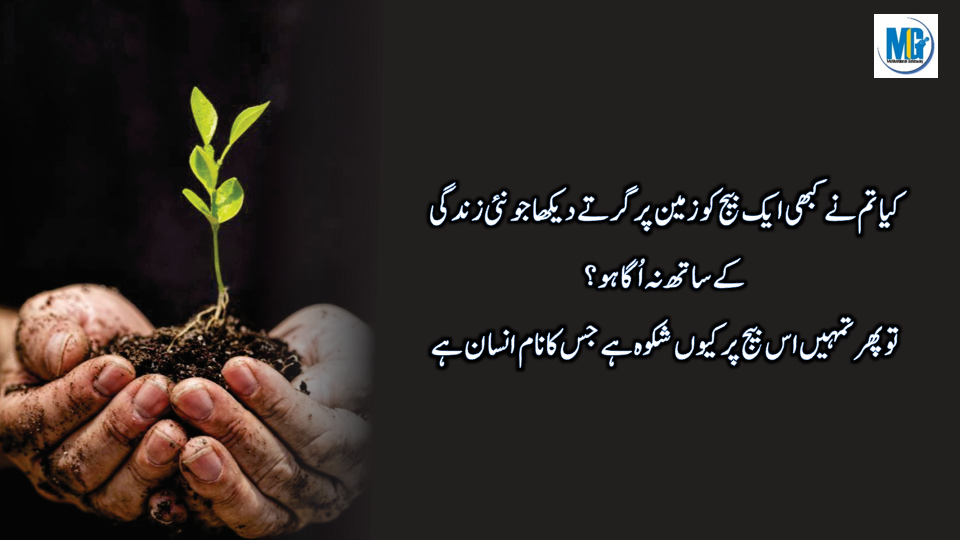 Kya Tum Nay Aik Beej Ko Zameen Pr Girty Dekha Jo Nyii Zindagi K Sath Na Uga Ho To Phr Thumain Us Beej Pr Q Shikwaa Hy Js Ka Naam Insan Hy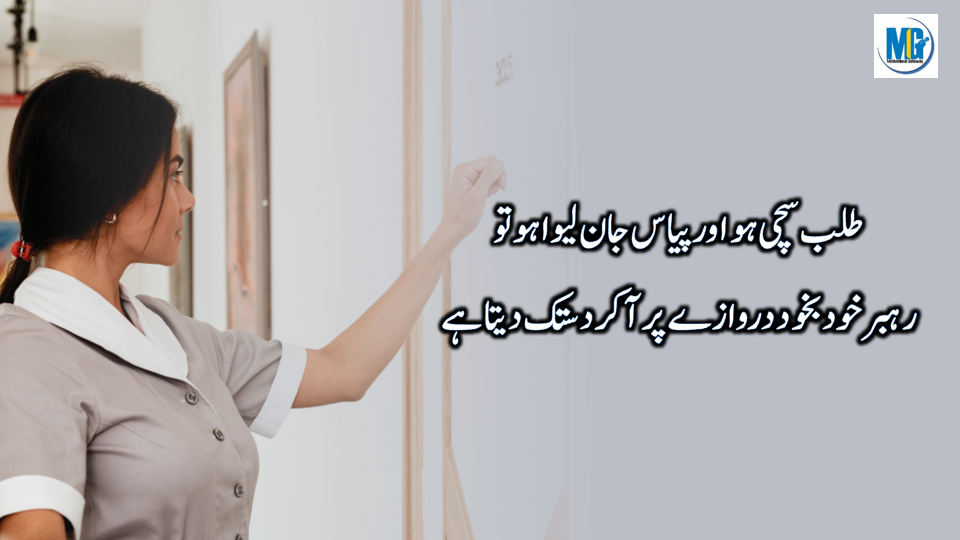 Tlb Sachi Ho Aor Pyass Jan Lewa Ho To Rehberr Khudbakhud Derwazy Pr Aa Kr Dastk Deta Hy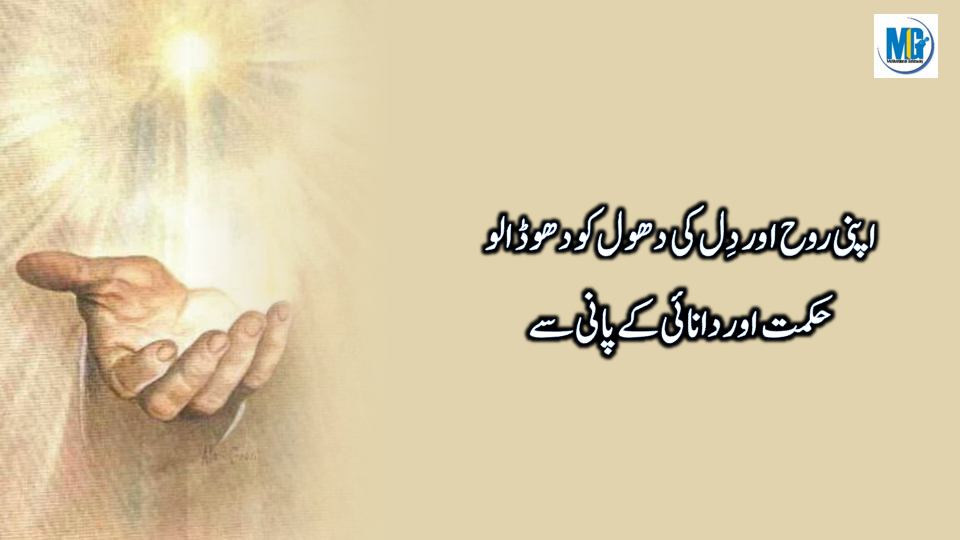 Apni Rhoo Aor Dil Ki Dhool Ko Dhoo Daloo Hikmt Aor Denyii K Pani Say ( Life Quotes )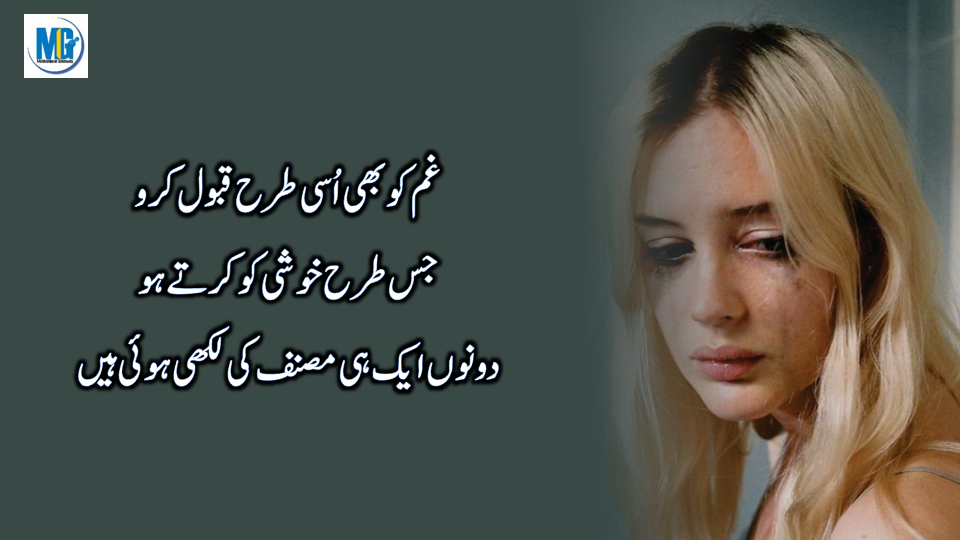 Gham Ko Bhi Ushii Thraa Kabool Kro Jis Thraa Kushi Ko Krty Ho Dono Aik Hi Musnif Ki Likhi Hoi Hain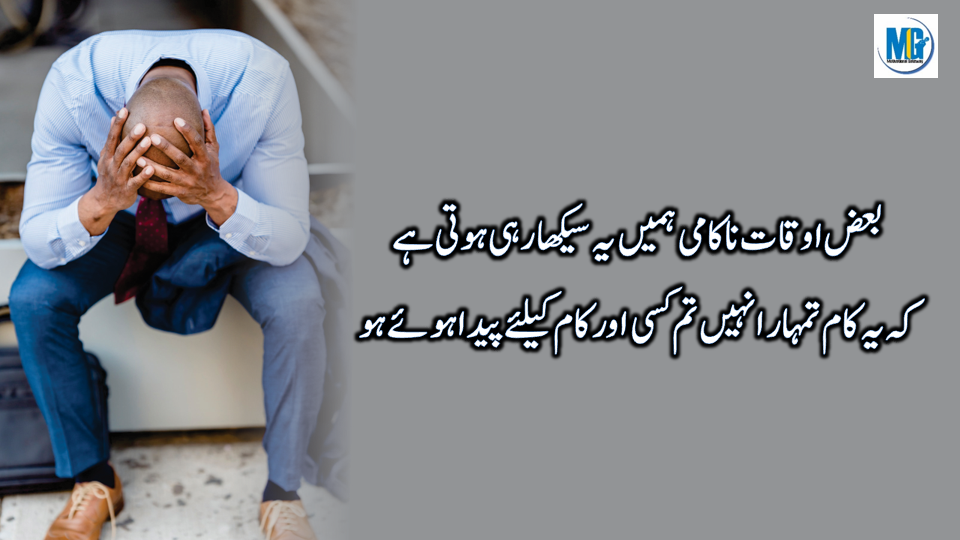 Baaz Okaat Nakmai Hamain Ye Sikha Rhi Hoti Hy K Ye Kam Thumra Nh Tum Kisi Aor Kam K Liy Peda Ho wy Ho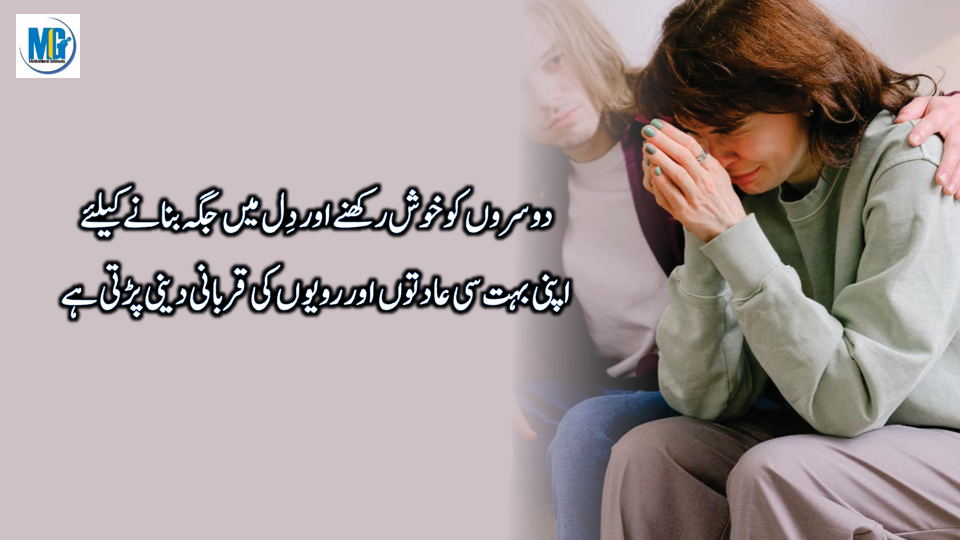 Dosroo Ko Kush Rikhny Aor Dil Main Jaga Bnany K Liy Apni Bouth Cee Adtoo Aor Rawioo Ki Qurbani Deni Prti Hy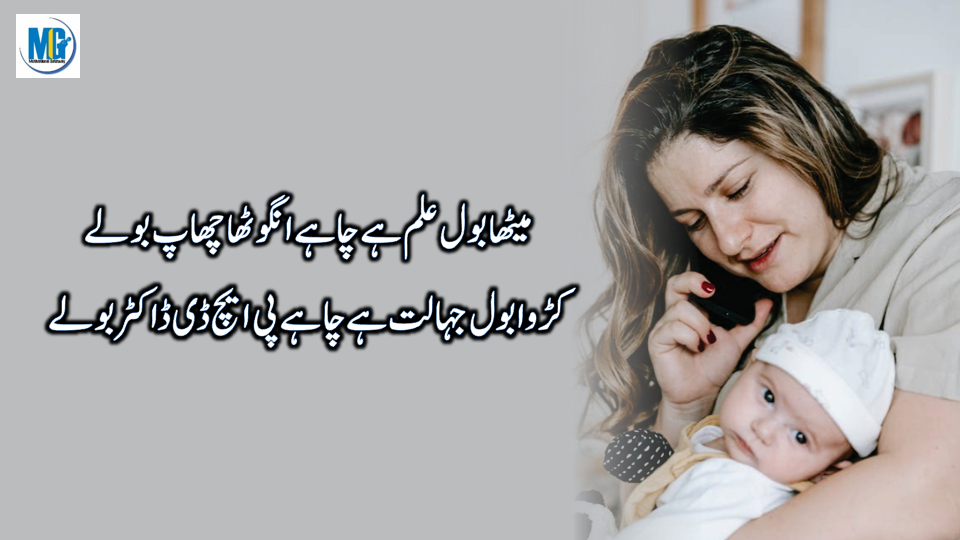 Meetha Bol Ilm Hy Chaihy Anghota Chaap Boly Kerwa Bol Jahalt Hy Chahiy PhD Doctor Boly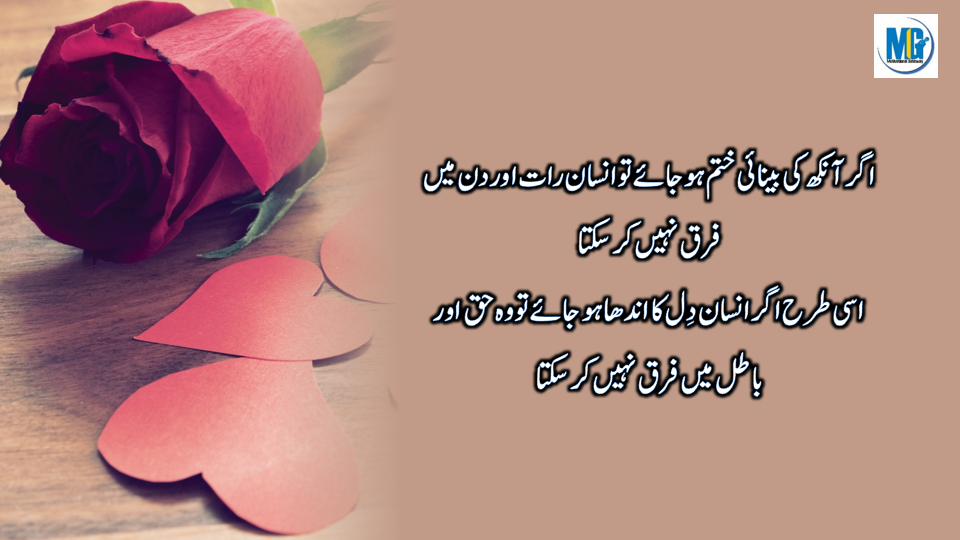 Ager Ankh Ki Benyii Khtm Ho Jay To Insan Raat Aor Din Main Frk Nh Kr Skta Issi Thra Ager Insan Dil Ka Andha Ho Jay To Wo Haq Aor Bitl Main Frk Nh Kr Sktaa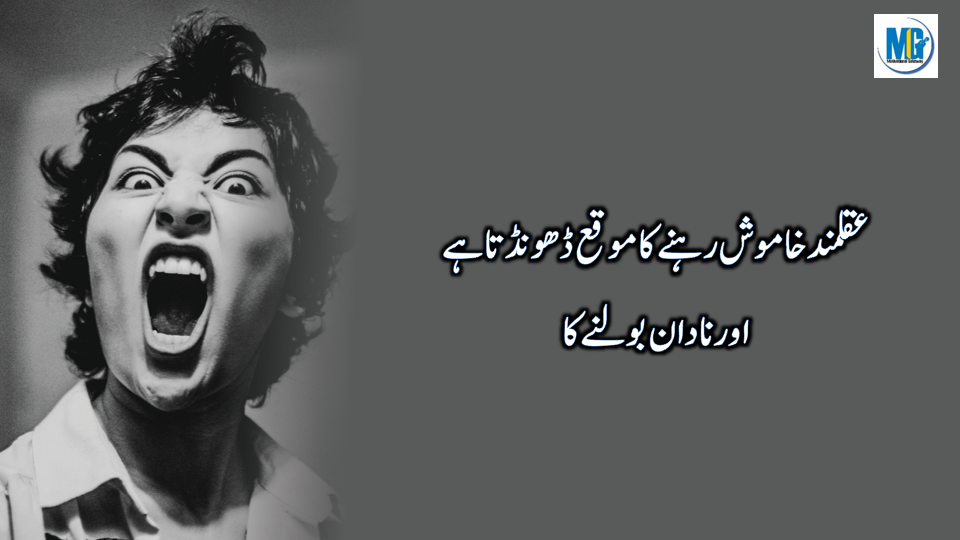 Akalmand Khamosh Rehny Ka Moka Dhondta Hy Aor Nadan Bolny Ka