Kamyab logon ki Azeem Batain!!
Kamyab logon ki Azeem Batain!!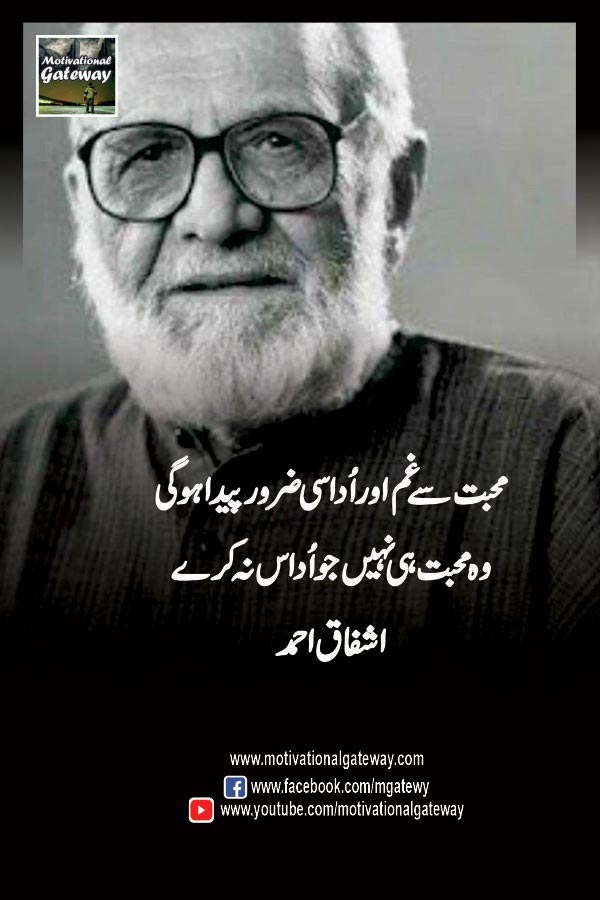 موتی اگر کیچڑ میں گر جائے تب بھی قیمتی ہےاور گرد اگر آسمان پر بھی چڑھ جائے تو بھی بے قیمت
شیخ سعدی
Mooti Agar Kechar mein bhi gir jaye tab bhi qeemati hai,Aur Gird Agar Aasman par Bhi Charh jaye tu bhi Be Qeemat
Sheikh Saadi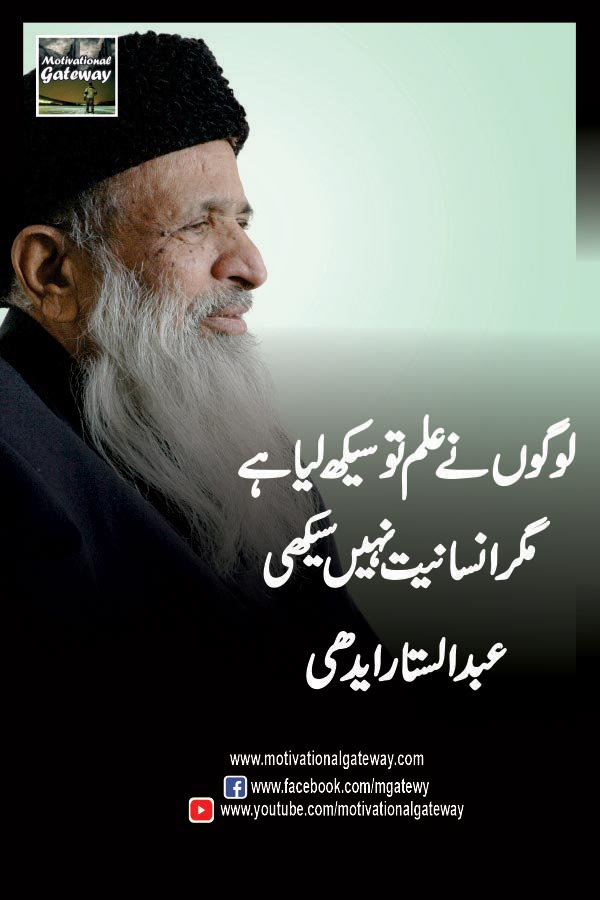 لوگوں نے علم تو سیکھ لیا ہےمگر انسانیت نہیں سیکھی
عبدالستار ایدھی
Logon nay Ilam tu sekh lia,magar insanyat nahi sekhi,
Abudul Satar Eedhi..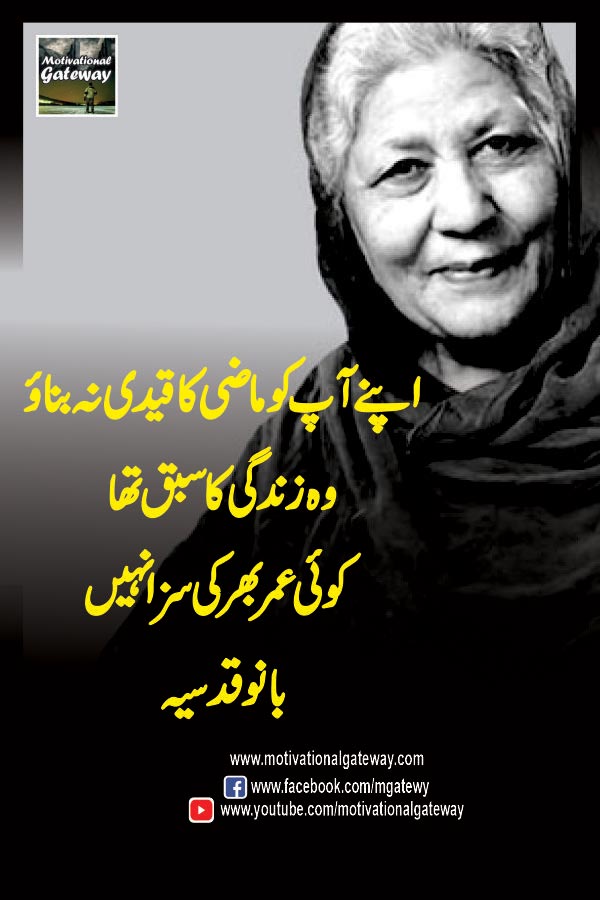 اپنے آپ کو ماضی کا قیدی نہ بناؤ،وہ زندگی کا سبق تھا کوئی عمر بھر کی سز ا نہیں
بانو قدسیہ
Apny Aap ko Maazi ka Qeedi na banao,Wo zindagi ka Sabaq tha,koi umar bhbar ki saza nahi
Bano Qudsia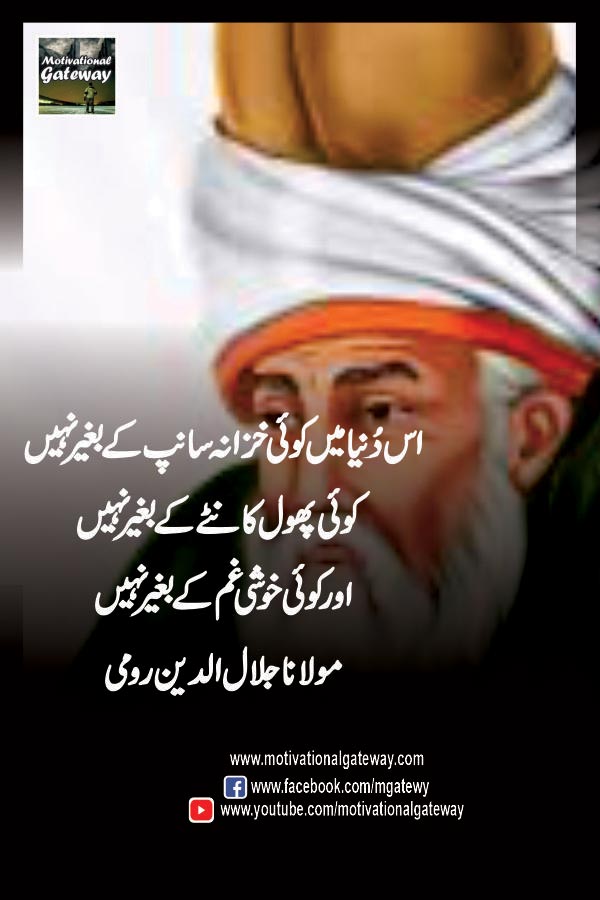 اس دُنیا میں کوئی خزانہ سانپ کے بغیر نہیں، کوئی پھول کانٹے کے بغیر نہیں
اور کوئی خوشی غم کے بغیر نہیں
مولانا جلال الدین رومی
Ic duniya mein koi khazana saanp ke baghair nahi،koi phool kantay ke baghair nahi،aur koi khushi gham ke baghair nahi
molana jalal Aldeen Romi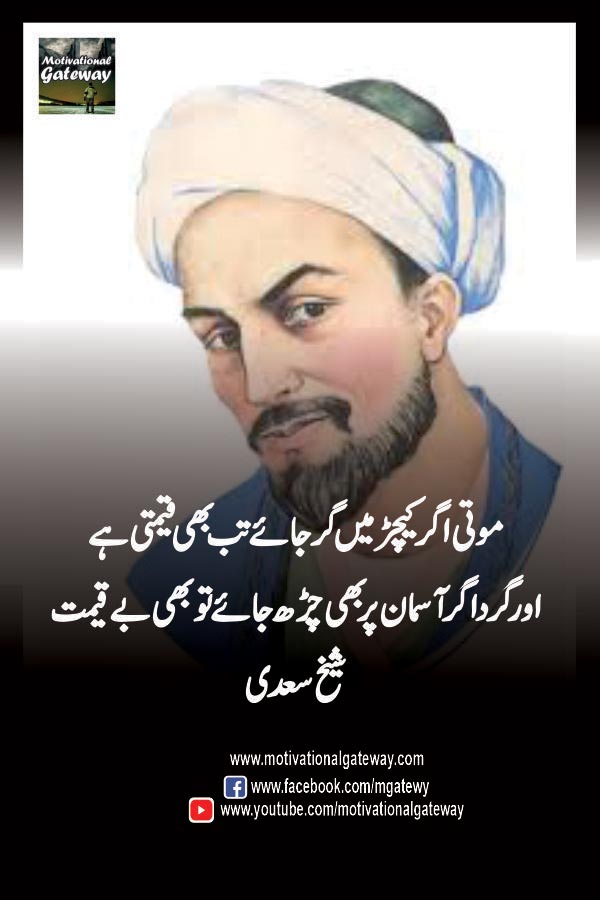 موتی اگر کیچڑ میں گر جائے تب بھی قیمتی ہے، اور گرد اگر آسمان پر بھی چڑھ جائے تو بھی بے قیمت شیخ سعدی
Moti agar keechar mein gir jaye tab bhi qeemti hai, aur gird agar aasman par bhi charh jaye to bhi be qeemat Sheikh Saadi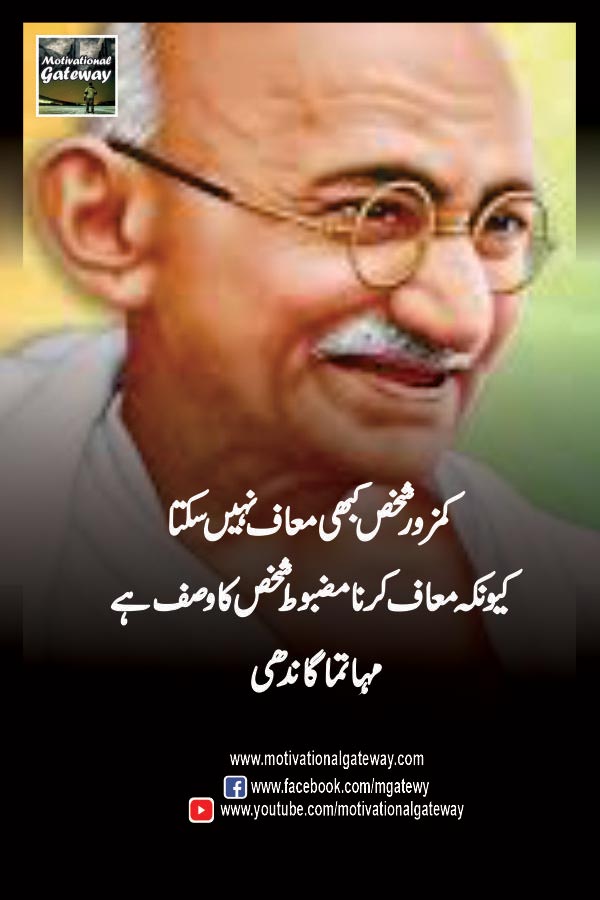 کمزور شخص کبھی معاف نہیں سکتاکیونکہ معاف کرنا مضبوط شخص کا وصف ہے
مہاتما گاندھی
kamzor shakhs kabhi maaf nahi sakta, kyun kay maaf karna mazboot shakhs ka Wasf hai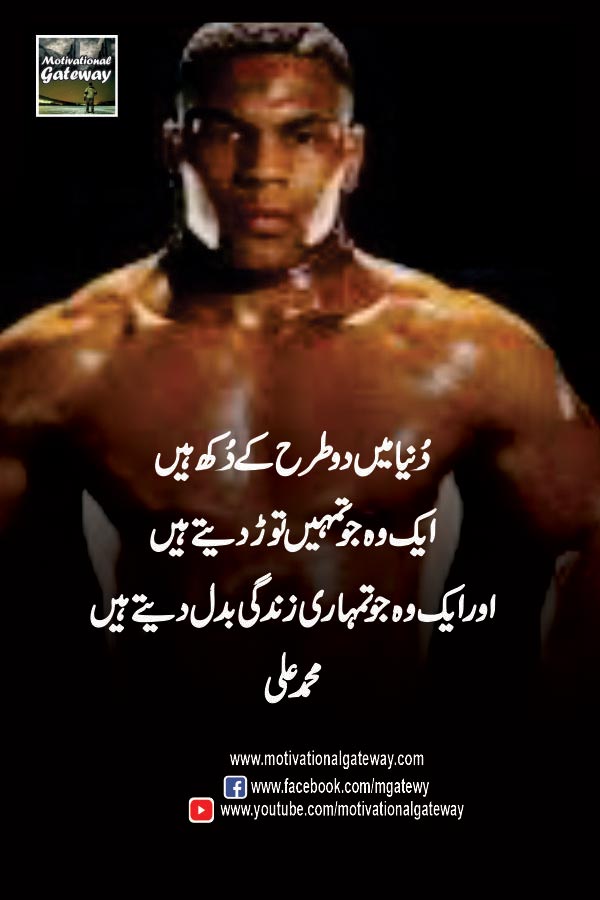 دُنیا میں دو طرح کے دُکھ ہیں ایک وہ جو تمہیں توڑ دیتے ہیں
اور ایک وہ جو تمہاری زندگی بدل دیتے ہیں
محمد علی
Duniya mein do terhan ke dukh hain,aik woh jo tumhe toar dete hain,aur aik woh jo tumhari zindagi badal dete hain
Mohammad Ali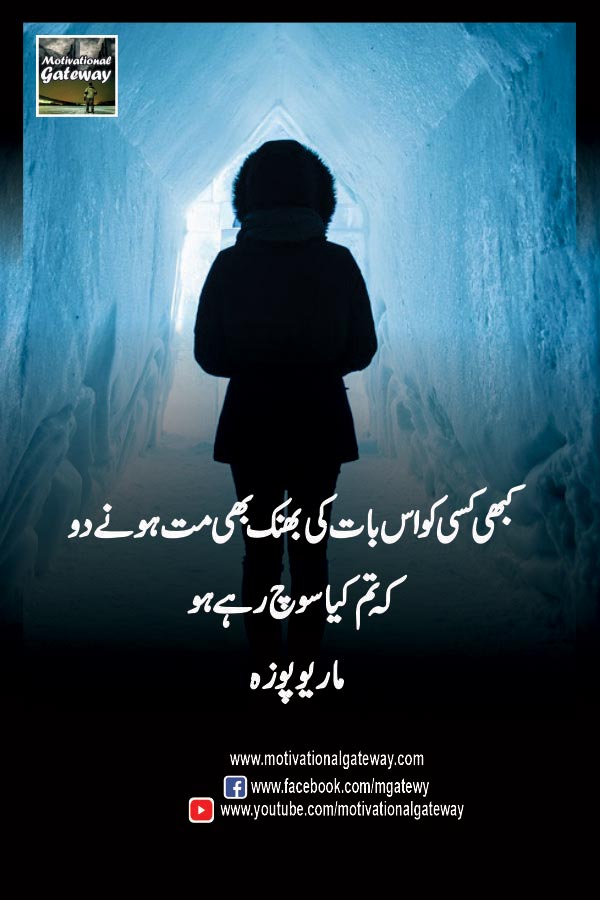 کبھی کسی کو اس بات کی بھنک بھی مت ہونے دو،کہ تم کیا سوچ رہے ہو
ماریو پوزہ
kabhi kisi ko is baat ki bhanak bhi mat honay do, ke tum kya soch rahay ho
Maryo Poza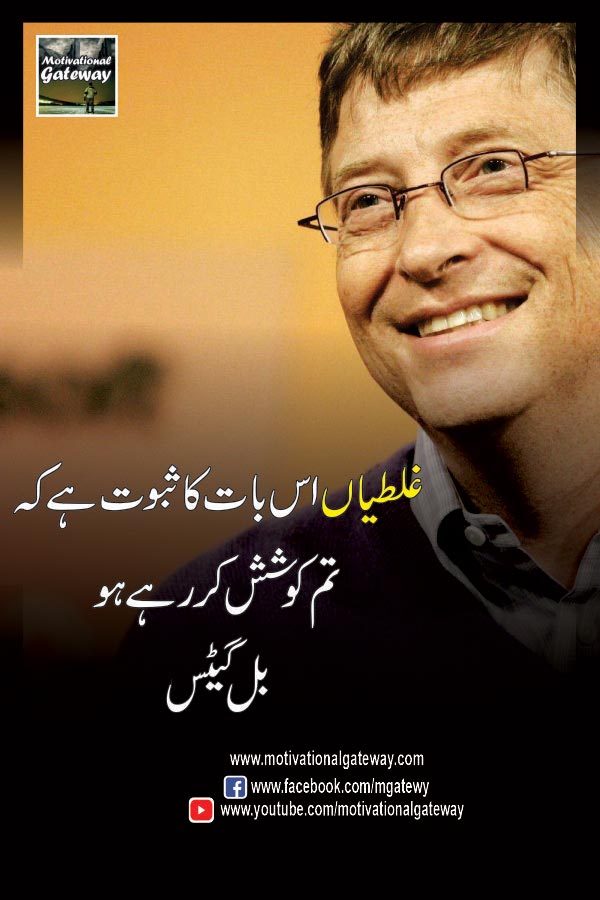 غلطیاں اس بات کا ثبوت ہے کہ تم کوشش کر رہے ہو
بل گیٹس
ghalatiyan is baat ka saboot hai ke, tum koshish kar rahay ho
Bill Gates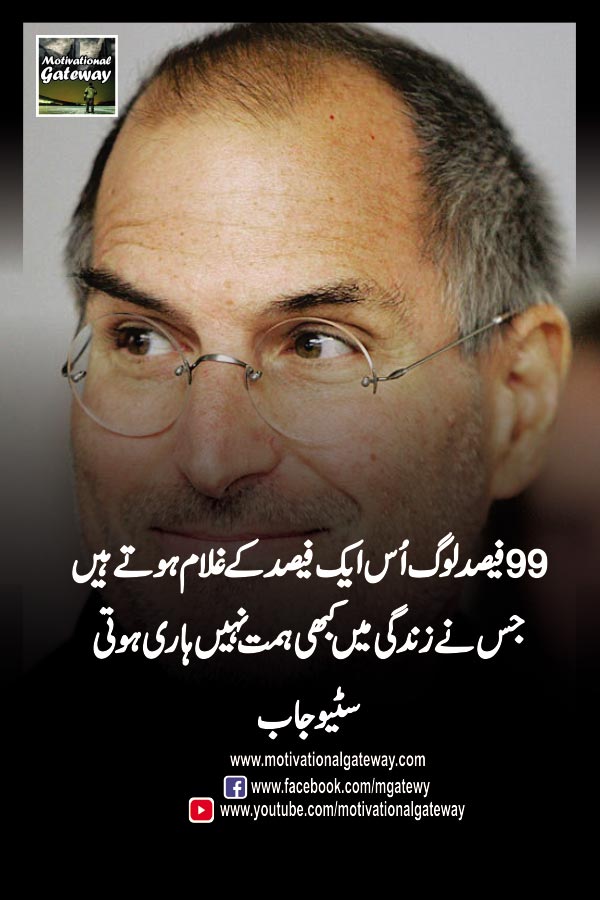 99فیصد لوگ اُس ایک فیصد کے غلام ہوتے ہیں جس نے زندگی میں کبھی ہمت نہیں ہاری ہوتی
سٹیوجاب
99 feesad log uss aik feesad ke ghulam hotay hain, jis ney zindagi mein kabhi himmat nahi haari hoti..