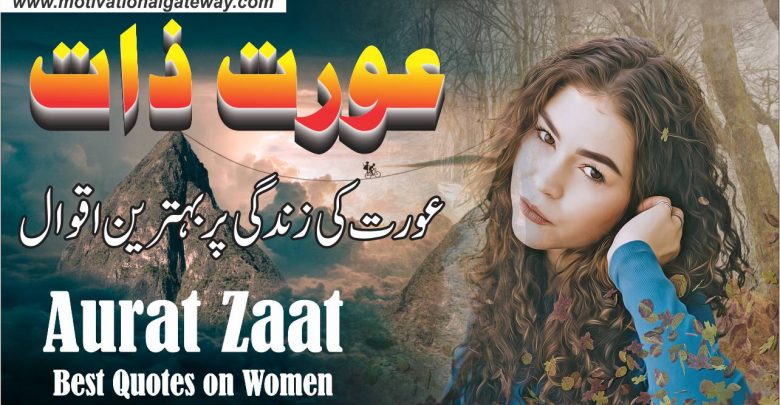 Golden words about Women!!
Mard is aurat ke ishhq se kabhi, nahi nikal sakta jis ko woh pa na sakay
مرد اس عورت کے عشق سے کبھی نہیں نکل سکتا جس کو وہ پانہ سکے
mard kehta hai aurat doulat ki pujaran hai
mard yeh kyun bhool jata hai ke aurat
mard ki mohabbat ki bhi pujaran hai aap uss par saari zindagi zulm
karte raho magar kisi aik lamhay ke liye ussay mohabbat ki nigah se dekho
ge to woh pichlle saaray zulm bhool jati hai
مرد کہتا ہے عورت دولت کی پُجارن ہے،مرد یہ کیوں بھول جاتا ہے کہ عورت ،مرد کی محبت کی بھی پُجارن ہے آپ اُس پر ساری زندگی ظلم ، کرتے رہو مگر کسی ایک لمحے کے لئے اُسے محبت کی نگاہ سے دیکھوگے تو وہ پچھلے سارے ظلم بھول جاتی ہے
woh aaj ro ro kar khud se keh rahi thi
aurat ko kabhi kisi se mohabbat karni hi nahi hai
mohabbat karni hai to bas kkhuda se kere
ju Rony nahi deta, jo bikharne nahi deta
jo aziat nahi deta, jo be qadri nahi karta
jo thaam laita hai, jo samaitt laita hai
وہ آج رو رو کر خود سے کہہ رہی تھی ،عورت کو کبھی کسی سے محبت کرنی ہی نہیں ہے، محبت کرنی ہے تو بس خدا سے کرےجورونے نہیں دیتا ،جو بکھرنے نہیں دیتا،جو اذیت نہیں دیتا ،جو بے قدری نہیں کرتاجو تھام لیتا ہے ، جو سمیٹ لیتا ہے
ایک خوبصورت اور کمال عورت وہ ہے جس سے آپ دُنیا کے ،ہر موضوع پر بات کر سکیں لیکن اسے اپنی حدود معلوم ہوں
اور آپ کو وہ حدود  بتانے کی ہمت رکھتی ہو پھر اس کے علاوہ ، کوئی چارہ نہیں رہ جاتا کہ آپ صرف اور صرف اس کی عزت کریں
aik khobsorat aur kamaal aurat woh hai، jis se aap duniya ke
har mauzo par baat kar sakain lekin usay apni hudood maloom hon,
aur aap ko woh hudood bitanay ki himmat rakhti ho phir is ke ilawa
koi charah nahi reh jata ke aap sirf aur sirf is ki izzat karen
مرد کبھی عورت  کا دوست نہیں ہو ہی سکتا ،،اس فرینڈشپ کا اصل چہرہ اٹریکشن یا پھر محبت ہے ،یہ ہی تو ہماری خوش فہمی ہوتی ہے جو ہم عورتیں کو لے ڈوبتی ہے ،تب ہی تو ہمارا معاشرہ مرداور عورت کی دوستی پر ہنستا ہے ،تسلیم ہی نہیں کرتا عورت دھوکا کھا جاتی ہے اسے مرد سے دوستی جیسی بہادری مہنگی پڑتی ہے
mard kabhi aurat ka dost nahi ho hi sakta ,
is friendship ka asal chehra Attraction ya phir mohabbat hai
yeh hi to hamari khush fehmi hoti hai jo hum Auratun ko le doobti hai
tab hi to hamara muashra marad aurat ki dosti par hanstaa hai
tasleem hi nahi karta aurat dhoka kha jati hai
usay mard se dosti jaisi bahaduri mehngi padtee hai
Golden words about Women
ایک عورت کے صبر اور حوصلہ کا تب پتہ چلتا ہے ،جب وہ اپنی اولاد کی خاطر ایسے خاوند کے ساتھ زندگی گزارتی ہے
جو نہ اس کی عزت کرتا ہے اور نہ اس کی ضروریات کا خیال رکھتا ہے ایسی عورت سچ میں عظیم ہوتی ہے
aik aurat ke sabrr aur hosla ka tab pata chalta hai,
jab woh apni aulaad ki khatir aisay khawand ke sath zindagi gzarti hai,
jo nah is ki izzat karta hai ,aur nah is ki zaroriat ka khayaal rakhta hai
aisi aurat sach mein azeem hoti hai
مرد کو خوش کرنے کے لئے کیا کیا کرتی ہے عورت ، اندر بدل دیتی ہے ، باہر بدل دیتی ہے
دل بدل دیتی ہے وجود بدل دیتی ہے ، صرف اسس لئے کہ وہ خوش رہے ۔ ناراض نہ ہو ، اس کی نظر نہ بد لے۔
mard ko khush karne ke liye kya kya karti hai aurat
andar badal deti hai, bahar badal deti hai
dil badal deti hai wujood badal deti hai, sirf ic liye ke woh khush
rahay. naraaz nah ho, is ki nazar nah badle .
مرد اگر پیار کرنے والا ہو تو عورت کچے گھر ،میں بھی اس کے ساتھ گزار ہ کر سکتی ہے ،کیا ہوااگر آپ اپنی بیوی کو محلو ں کی رانی نہیں بنا سکتےاپنی بیوی کو دل کی رانی بنا  کر دیکھیں وہ آپ کے چھوٹے سے گھر کو بھی محل سمجھنے لگے گی
Mard agar pyar karne wala ho to, aurat kachay ghar, mein bhi is ke sath guzaara kar sakti hai, kya howa agar aap apni biwi ko mahlun ki rani nahi bana satke apni biwi ko dil ki rani bana kar dekhen, woh aap ke chhootay se ghar ko bhi mehal samajhney lagey gi
عورت کو اگر وقت ،محبت ، اعتماد اور سب سے خاص چیز عزت دی جائے تو وہ جان تو دے سکتی ہے مگر بے وفائی نہیں کر سکتی                  
aurat ko agar waqt, mohabbat, aetmaad aur sab se khaas cheez izzat di, jaye to woh jaan to day sakti hai magar be wafai nahi kar sakti
عورت جب رورہی ہو تو بہت حسین ہوجاتی ہے ،اُس کے آنسو شبنم کے قطروں کے مانند ہوتے ہیں
جو مرد کے جذبات کے پھو لوں پر ٹپکتے ہیں جن سے اسے ایسی راحت ،ایسی فرحت ملتی  ہے جو اور کسی  وقت نصیب نہیں ہوسکتی ۔
aurat jab rorhi ho to bohat Hussain hojati hai,
uss ke ansoo shabnam ke qatroun ke manind hotay hain
jo mard ke jazbaat ke pholon par tapkte hain jin se
usay aisi raahat, aisi Farhat millti hai jo aur kisi waqt naseeb nahi hosakti.
Golden words about Women