life changing break up poetry!!
life changing break up poetry!!
میں تیری تلاش میں دُور تک نِکل گیا
مجھے راستے میں خُدا ملا ،تجھے کیا ملا؟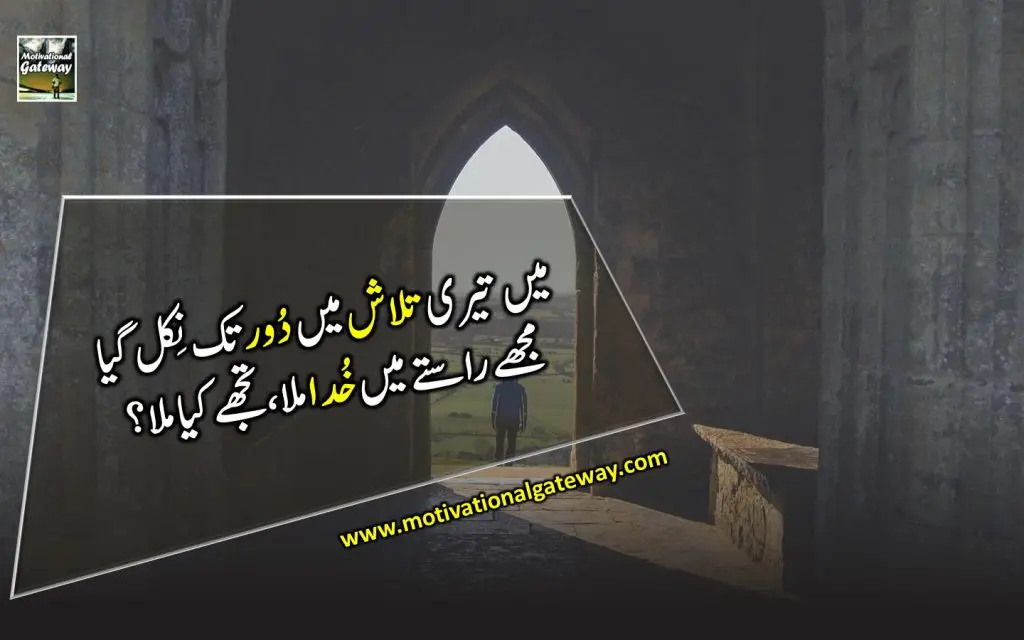 Mein teri talash mein door tak nikal gaya,mujhy rasty mein khuda mila,tujhy kia mila?
ہو نہ جائے حسن کی شان میں گُستاخی کہی
تم چلے جاؤ تمہیں دیکھ کر پیار آتا ہے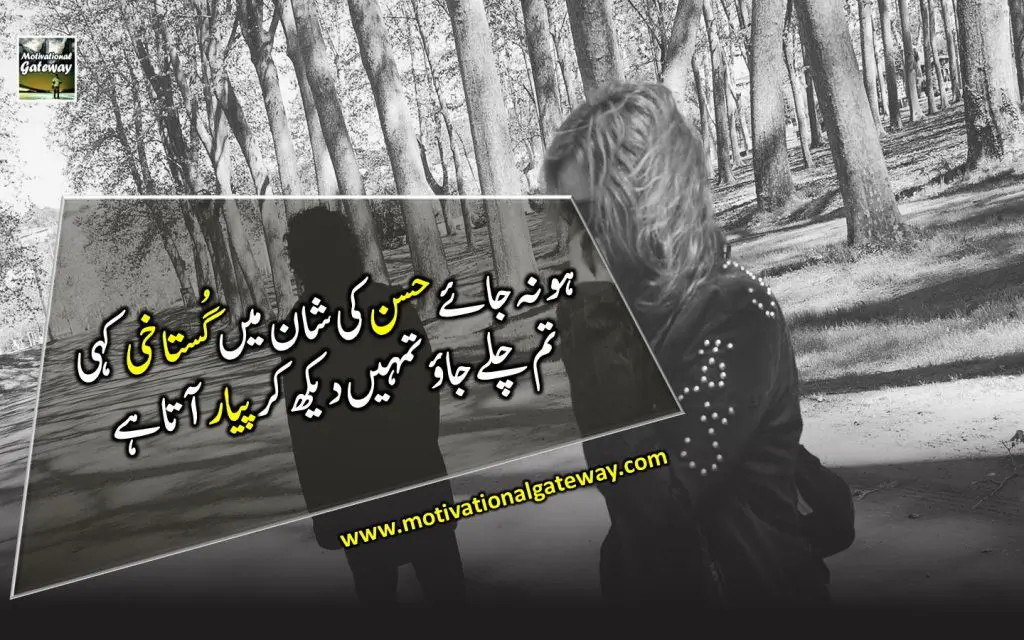 Ho na jaye husan ki, Shan mein Gustakhi kahen,tum chaly jao tumhain daikh ker payar aata hai..
خاک سے تم اور خاک سے ہم پھر
کیوں
خاص ہو تم او ر عام ہیں ہم ؟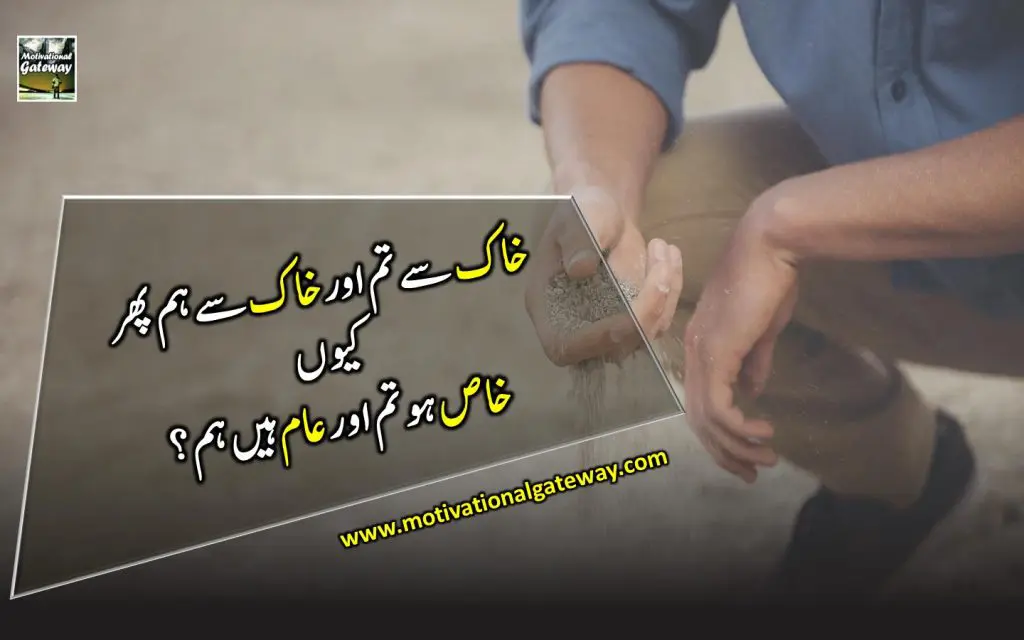 Khak say tum aur khaak Say Hum,Phir keyon khas ho tum aur Aam haim hum,,
وہ جس کی سانس پر تحریر تھی حیات میری
اسی کا حکم ہے اب رابطہ نہیں کرنا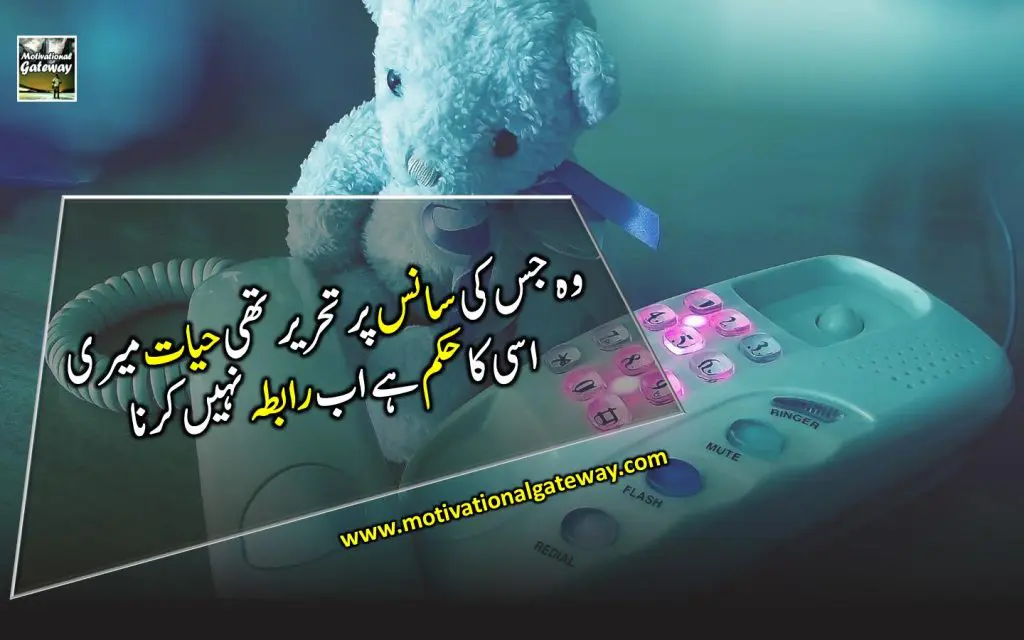 Wo jis k saans par tahrer thi,Hayat Meri usi ka hukam hai,Ab rabta nahi karna
محبت سے بڑھ کر ایک عقیدت ہے تم سے
بعد مرنے کےمیری روح بھی تیرا احترام کرے گی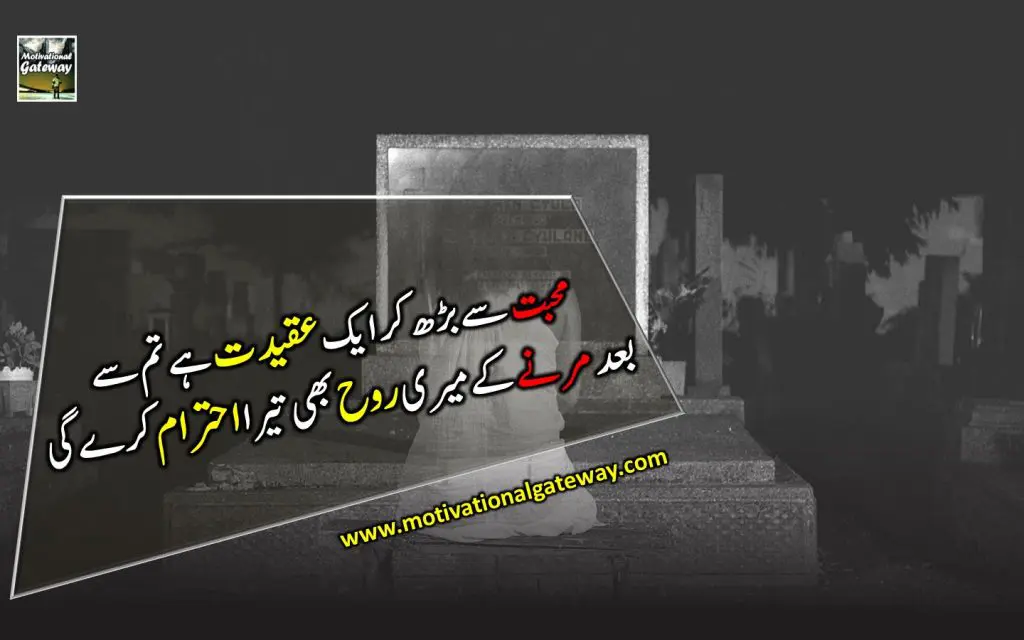 Muhabat say barh ker aik Aqeedat hai tum say,Baad marny k meri Ruh bhi Tera ahtaram kary gi,,
مت پوچھ کیسے گُزر ےدن اور کیسی گُزری رات
بہت تنہا جئے ہیں ہم تُجھ سے بچھڑنے کے بعد۔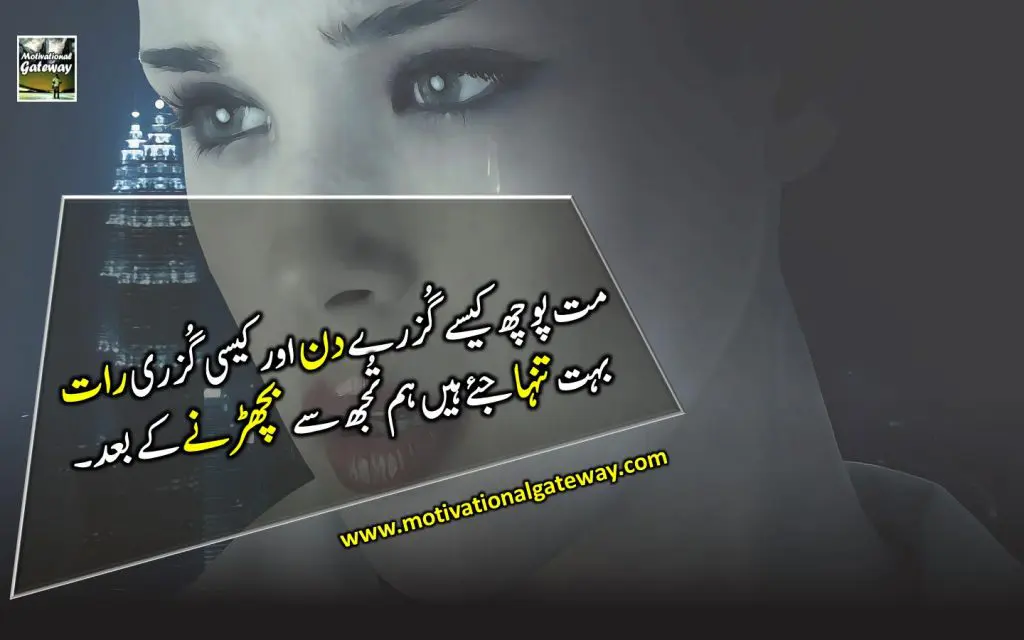 Mat Poch kesy Guzry din aur,Kesi guzri raat,Buhat tanha jeye hain,HUm tujh say bicharny k baad
کب تک ترستے رہیں گے تجھے پانے کی حسرت میں
دے کوئی ایسا زخم کہ میری سانس ٹوٹ جائےاور تیری جان چھوٹ جائے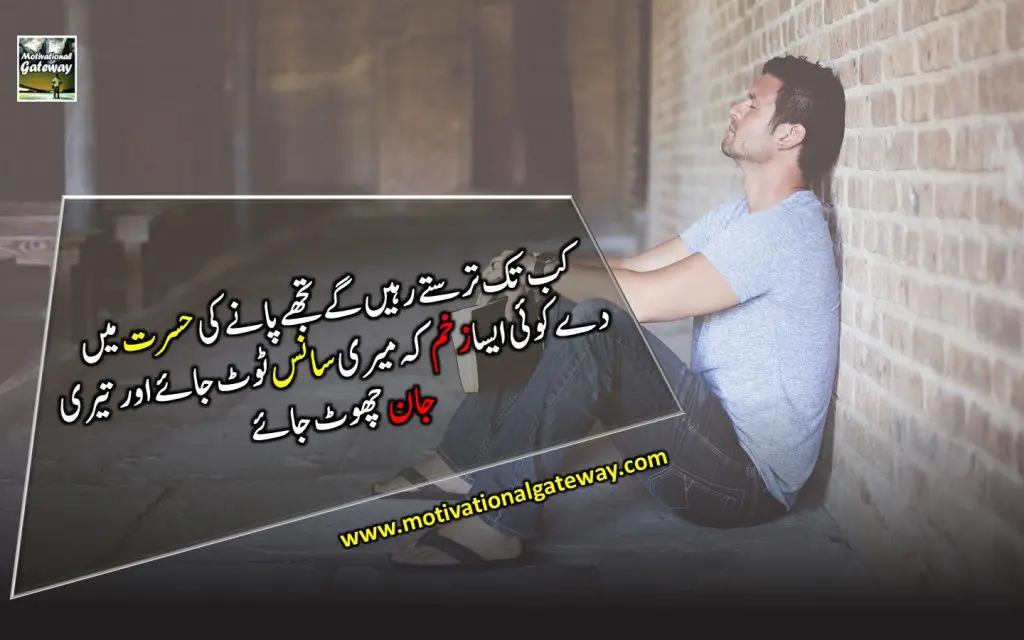 Kab tak tarsty rahain gay tujhy paany ki hasrat mein,Day koi aesa gham k ,Meri saans Toot jaye Ur teri JAAN choot jaye,,
ایک خط جو تونے کبھی لکھا ہی نہیں
میں روز بیٹھ کے اس کا جواب لکھتا ہوں۔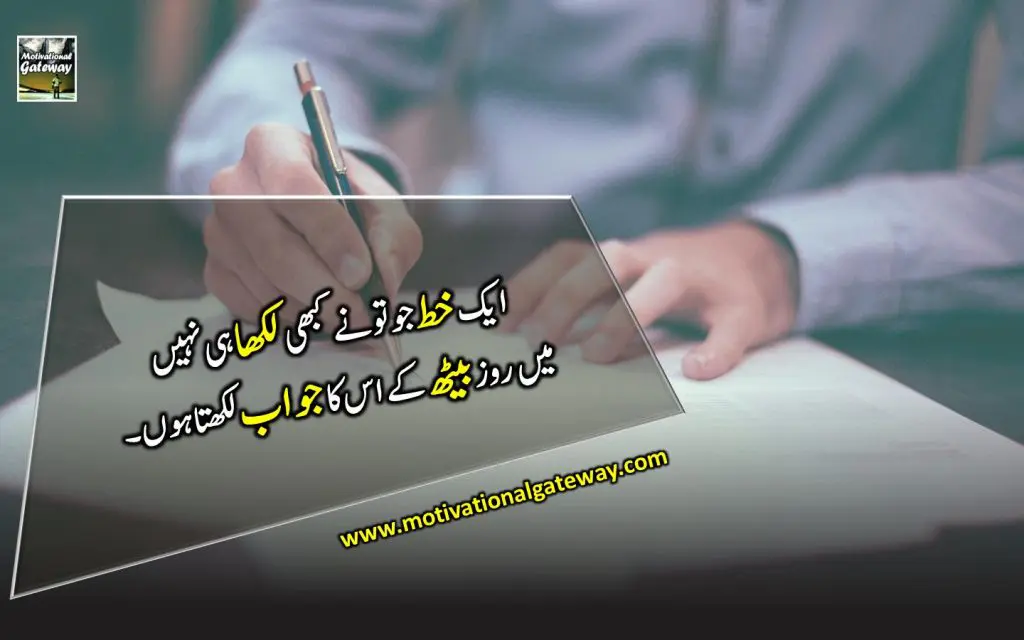 Aik khat ju tu nay kabhi likha hi nahi,Mein Rooz beth kar ic ka jawab likhta hun,,
مجھے خیا ل تھا اس کا اسے زمانے کا
خدا کرے کہ زمانہ وفا کرے اُس سے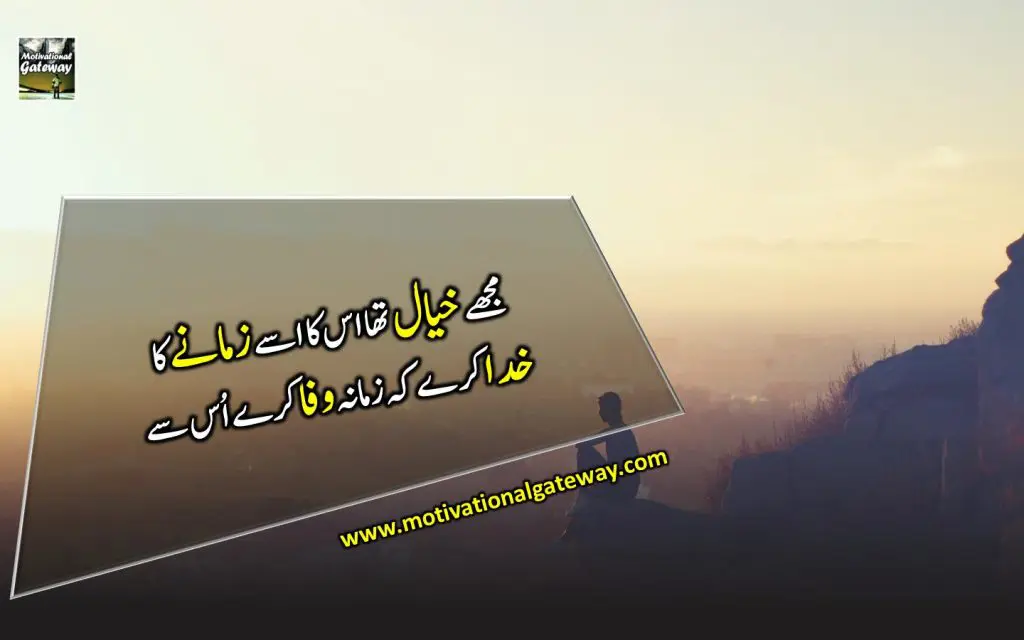 Mujhy khayal tha ic ka,Isy zamany ka ,Khuda kary Zamana wafa kary ic say,,
تمہاری ذات پر اعتبار کیا
اب تو واجِب القتل ہیں ہم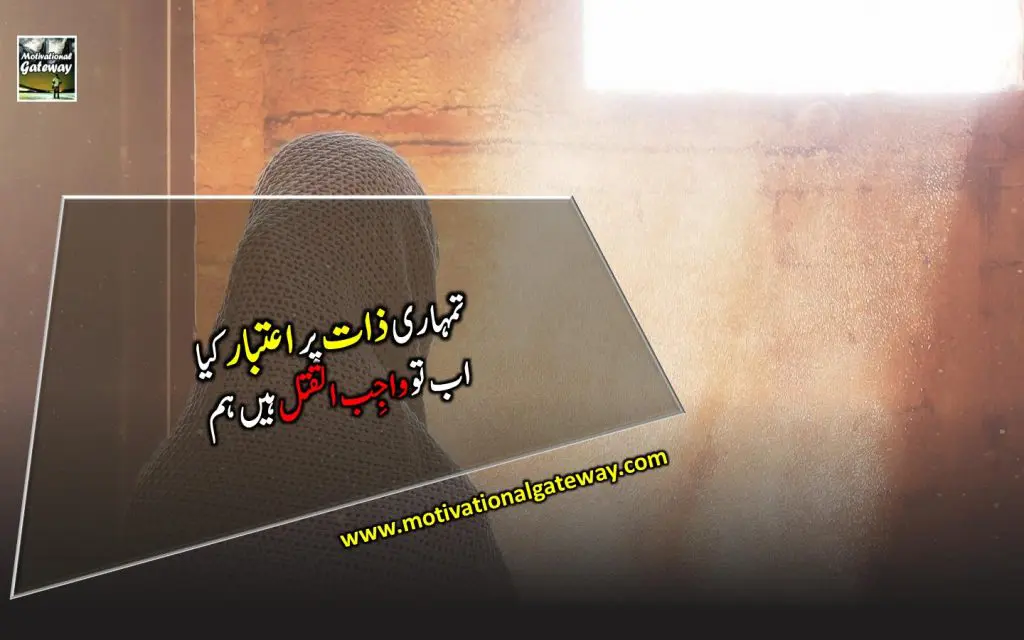 Tumhari zaat par etbaar kia,Ab tu WajibulQatal hain hum..
سنا ہے شوق نہیں رکھتے تم محبت کا
مگر یقین مانو! برباد تم کمال کا کرتے ہو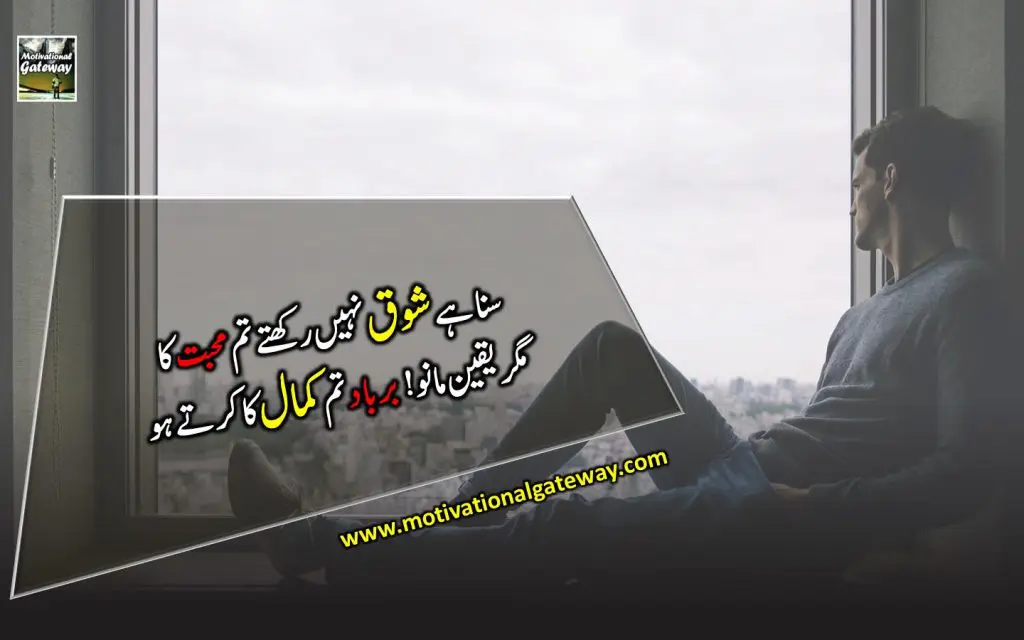 suna hai Shoq nahi rakhty Tum muhabat ka,Magar yaqeen mano,Barbad tum kamal ka karty ho..
تیری حالت سے تو لگتا ہے کہ تمہارا کوئی اپنا تھا
اتنی سادگی سے برباد کوئی غیر نہیں کرتا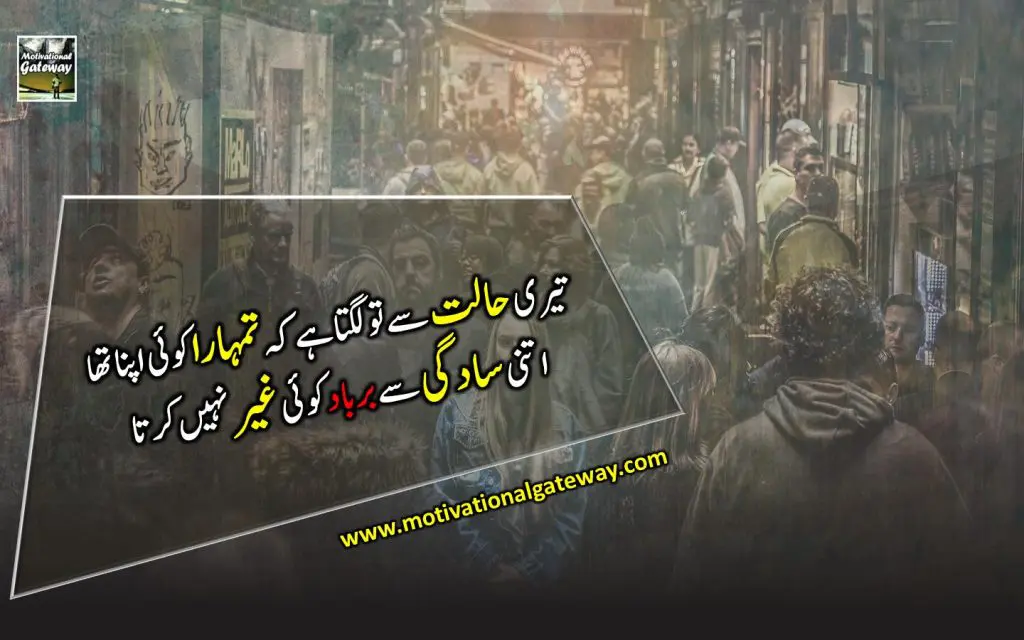 Teri halat sey tu lagta hai keh,tumhara koi apna tha,itni sadgi say Barbad koi Gher nahi karta..
اتنا بھی ہم سے ناراض مت ہوا کرو
بد قسمت ضرور ہیں ہم مگر بے وفا نہیں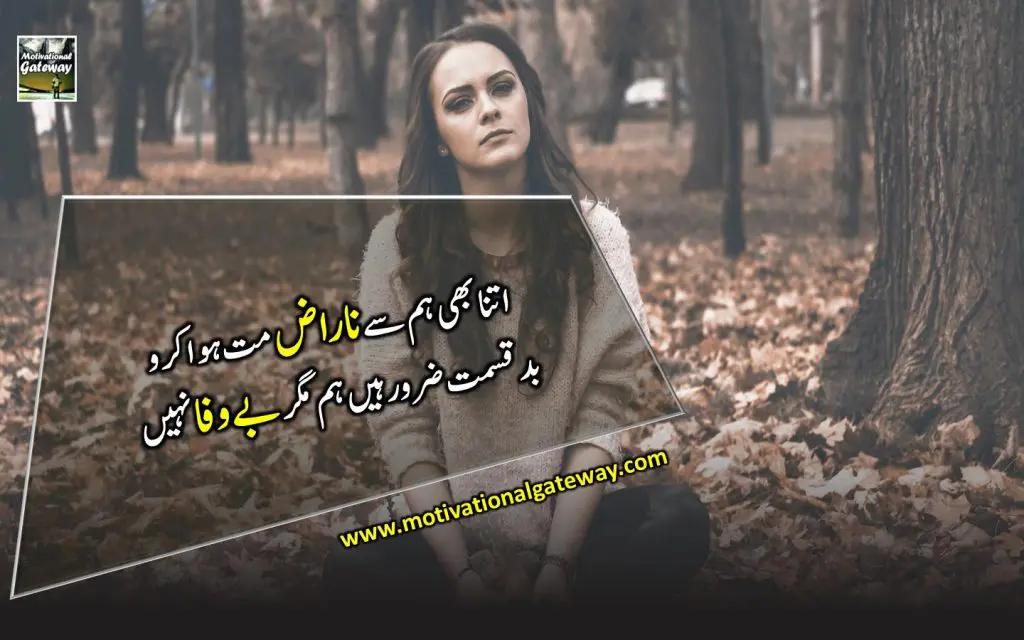 Itna bhi hum say Naraz mat howa karo,Bad Qismat Zaroor hain hum magar be wafa nahin,,
اس نے یہ سوچ کر ہمیں الوداع کہ دیا محسن
یہ غریب لوگ ہیں محبت کے سوا کیا دیں گے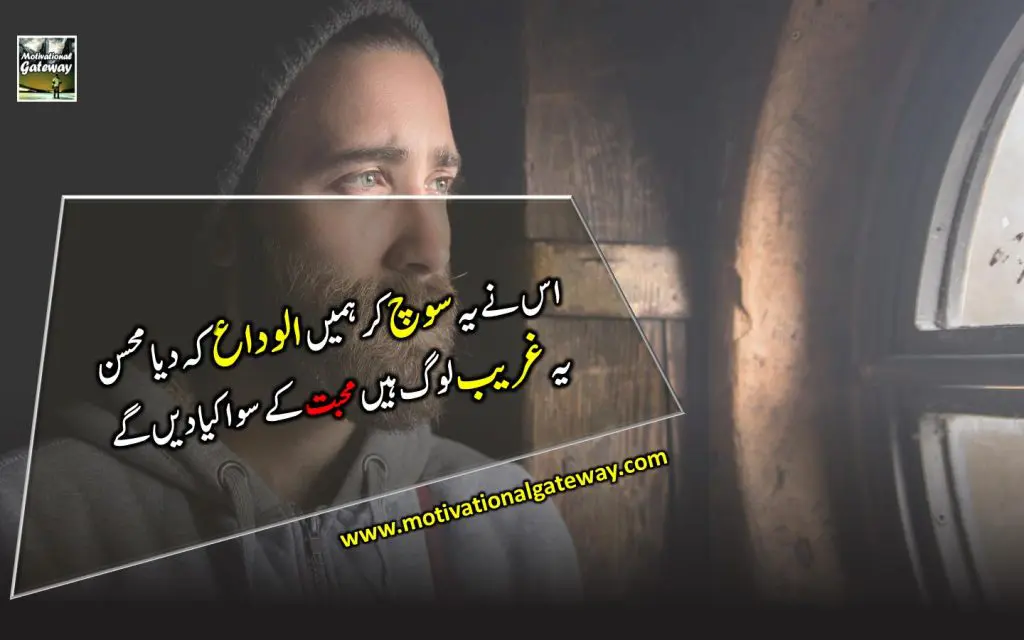 Ic nay ye soch kar hamian Alwida keh dia Muhsin,,ye Ghareb Log hain Muhabat ky siwa kia dain gay,,
اس کی محبت کا سلسلہ بھی کیا عجیب تھا
اپنا بھی نہ بنایا اور کسی کا ہونے بھی نہ دیا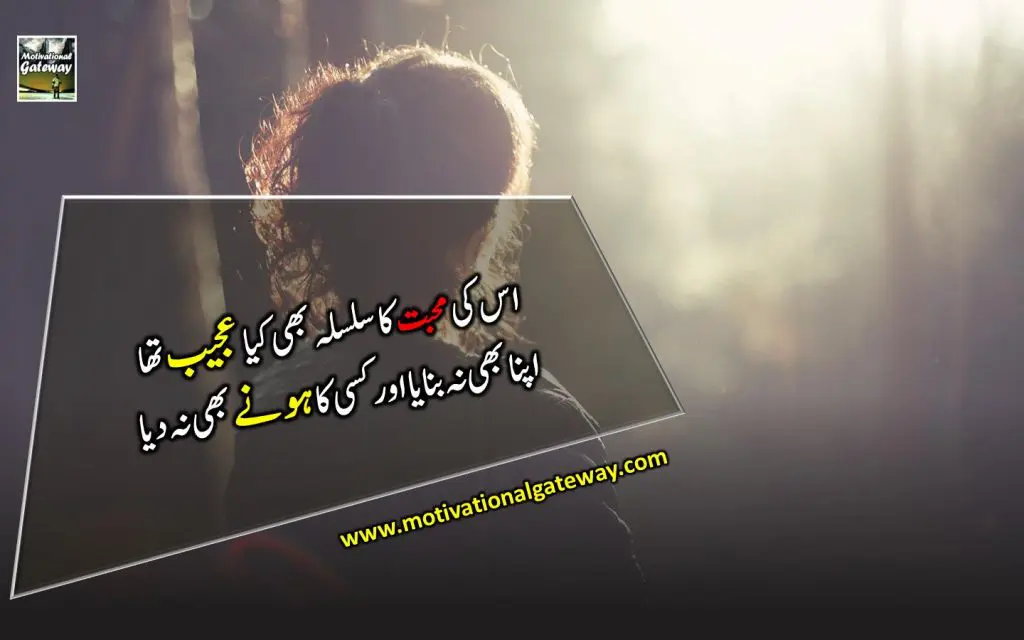 ic ki Muhabat ka silsala bhi kia Ajeeb tha,Apna bhi na banaya aur kesi ka hony bhi na dia,,
لِکھناتو تھا کہ خوش ہوں تیرے بغیر بھی
آنسو مگر قلم سے پہلے ہی گر گئے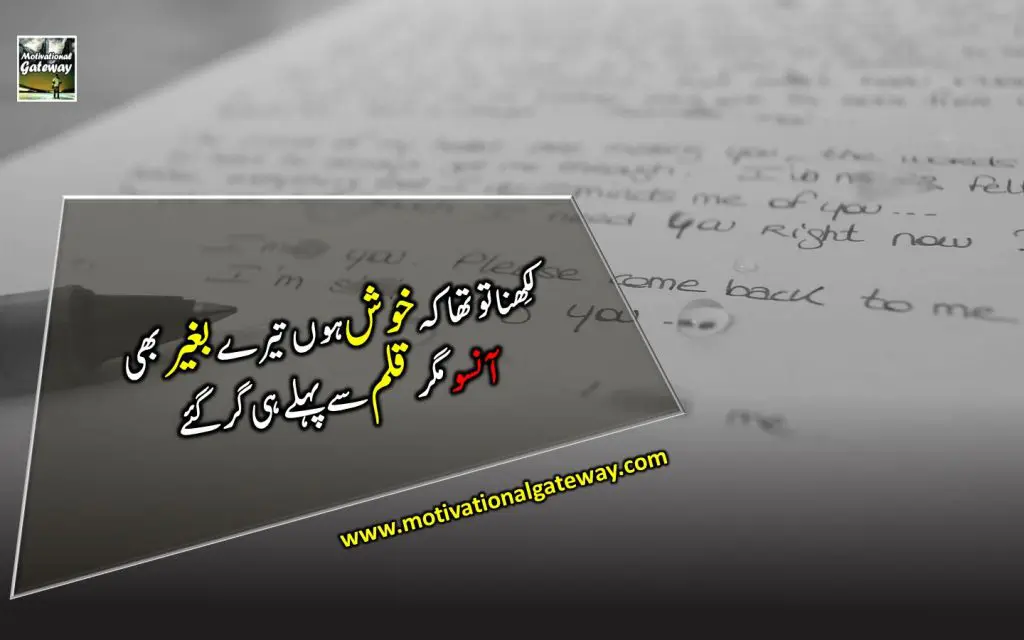 Likhna tu tha keh Khush hun tery bagher,Aanso magar Qalam say pahly hi gir gaye,,
ہماری تو وفا بھی تمہیں گوارہ نہیں
کسی بے وفا سے نبھاؤ گے تو بہت یاد آئیں گے ہم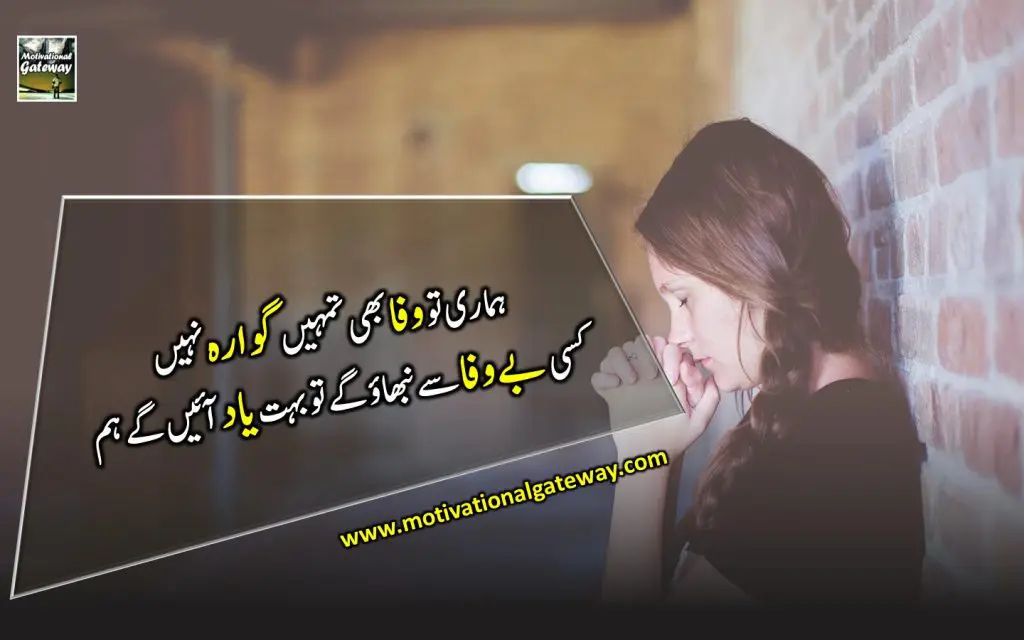 Hamari tu wafa bhi tumhain gawara nahi,kesi bewafa say nibhao gay,Tu buhat yaad aye gay hum
جام الفت کا بہانہ کرکے زہر ہی دے دو مجھے
بہت مشکل ہوگیا ہے تیرے بغیر جینا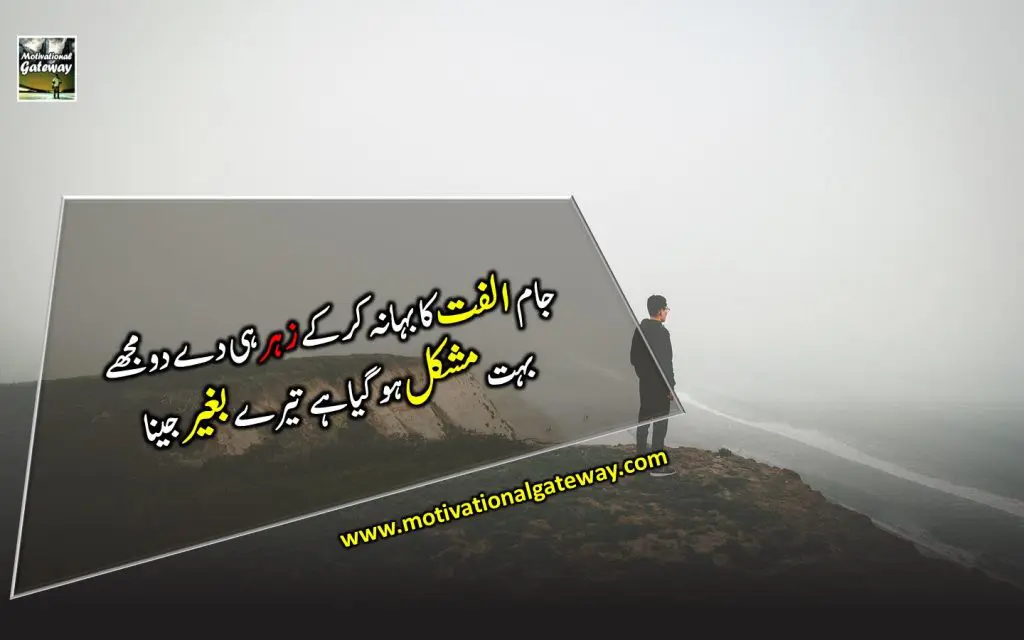 Jaam Ulfat ka bahana kar k .Zahar hi day du mujhy,Buhat Mushqil ho gaya hai tery bagher jeena ,,
کچھ تو مجبوریا ں رہی ہوں گی یونہی کوئی بے وفا نہیں ہوتا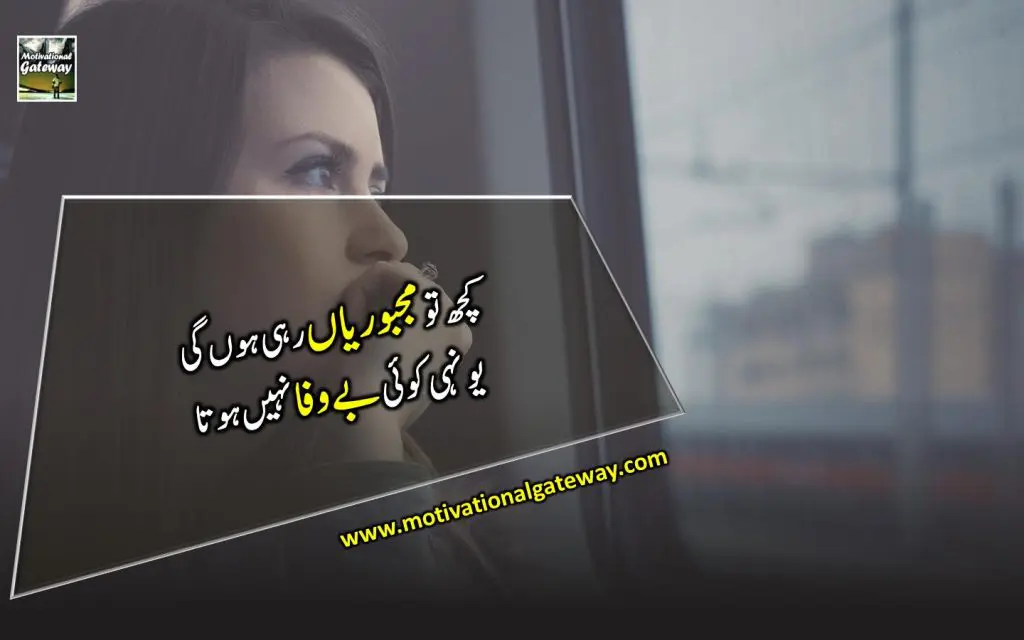 Kuch to majborya rahi hun gi,Yonhi tu koi bewafa nahi hota…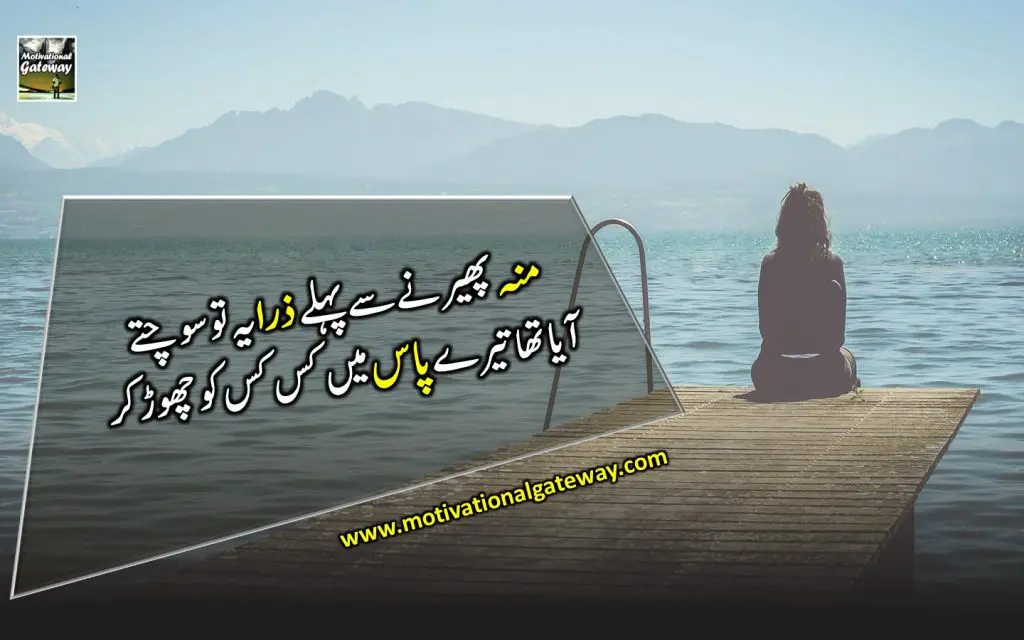 Munh Pherny say pahly zara ye tu sochty aya tha tery paas mein kis kis ko chor kar,,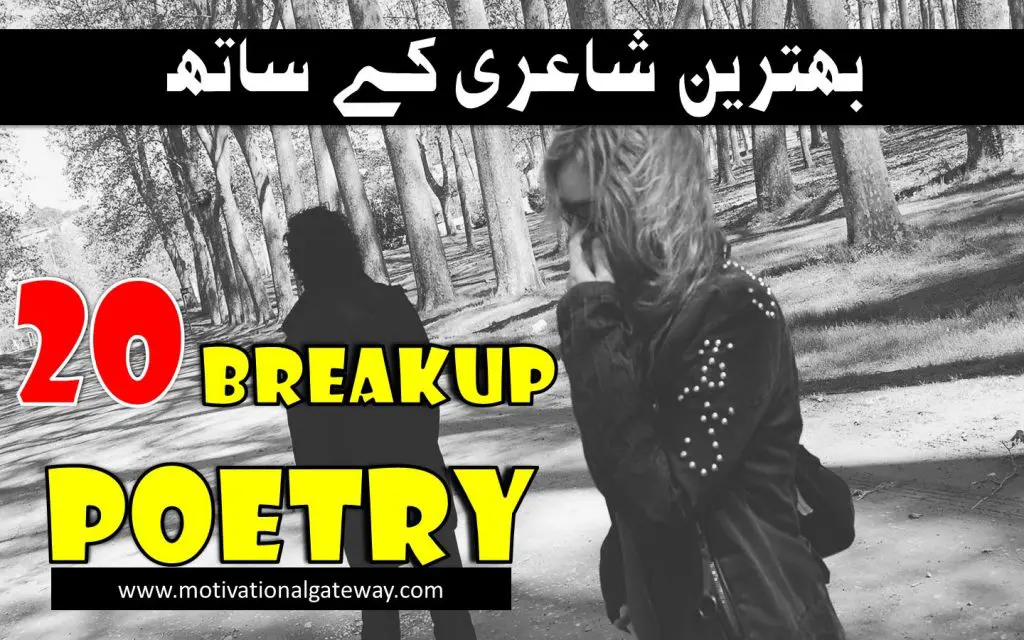 life changing break up poetry!!